Brazilian director Walter Salles presents On the road in Competition, a road movie adapted from one of Jack Kerouac's most famous novels, and a founding document for the Beat Generation.

It's now been 8 years since Walter Salles began this work, because he began by shooting the highly original documentary Looking for On the Road. "The idea of adapting the novel was so complex that I wanted to make a documentary charting the journeys taken by Kerouac and the rest of the group, so that I could gain a better insight into the odyssey described in the book and what remained of post-industrial America," he explains. And so he set out to meet the characters in the book, some of whom are still alive. According to the director, the adaptation of the book required a great deal of spontaneity. "To remain faithful to its spirit, we had to prioritise improvisation while shooting. But if you know the tune, it's much easier to riff."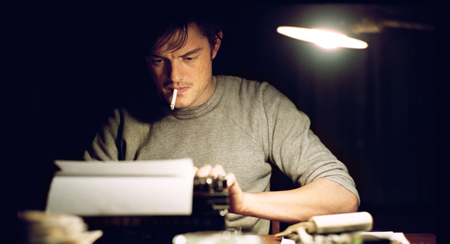 Kerouac's book is an ode to wide open spaces, an epic journey West, in search of new worlds. The themes of travel and the search for identity are common to the work and to the films of Walter Salles. Peregrinations, the search for the self, an ideal, encounters with the Other.. The novel itself is often described as "mystical". On the Road is the book which launched the Beat Generation, the American literary and cultural movement of the 50s and 60s.

The poet Michael McClure, who was part of the movement, explains it in this way, "A young 21 year-old guy asked me the other day what had happened to the Beat Generation. Both his clothes and hair were just the way he wanted them, he was against the war in Iraq and was interested in ecology and Buddhism. I put the same question to him, 'Yes, where is the Beat Generation?'. The answer of course was that it was in him. It's not always easy to explain that to others. Besides, there's no need anyway..."
E.B.

The film screens Wednesday 23rd May at 8.30 am and 7 pm at the Grand Théâtre Lumière