The Cinémathèque française and Studio Canal have restored Blazing Sun (Plein Soleil) by René Clément, with the assistance of the Franco-American Cultural Fund. This work, led by the desire to preserve the film's particularly unsettling dimension, will be presented by Alain Delon, guest of honour at the Festival de Cannes.

In 1960, Blazing Sun established Alain Delon as a leading actor and marked the beginning of his great career and the start of a collaboration between the filmmaker and the actor (The Joy of Living - Quelle joie de vivre, Joy House - Les Félins, Is Paris Burning - Paris, brûle-t-il ?).
"René Clément is my master, he taught me everything. He was the greatest director I have ever known, the greatest cinematographer, the greatest cameraman". This tribute carries even greater weight when when we remember that Alain Delon worked with the greatest, from Viscont to Losey, not to mention Antonioni and Melville.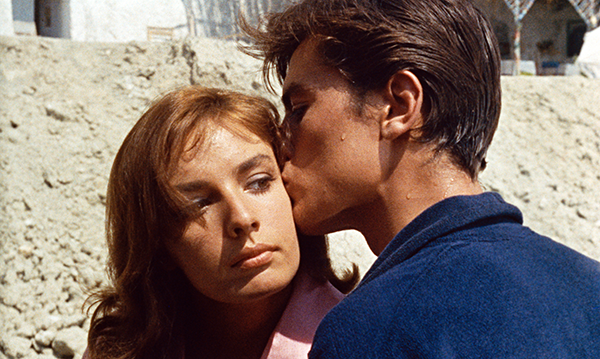 Marie Laforêt and Alain Delon. Film still © DR.
Adapted from Mister Ripley, Blazing Sun brings to life the evil character created by Patricia Highsmith, who also inspired Wim Wenders and Antony Minghella. Alain Delon's masterful performance (skilfully accompanied by Maurice Ronet and Marie Laforet), the disturbing soundtrack composed by Nino Rota and the incredible modernity of the mise en scène make Plein Soleil René Clément's masterpiece. There could be no greater tribute than to restore it to celebrate the hundredth anniversary of the filmmaker's birth.
This restoration essentially consisted of the most faithful restitution possible of the lighting and original colours, be they the dominant warm golden tones or even a few lighting continuity errors during the boat scene. The sound was restored by taking care to preserve the effects of slowing down and speeding up which create a sensation of strangeness and add tension to the film.
Béatrice de Mondenard
SCREENING
Saturday 25th May / Debussy Theatre / 9.15 p.m.

>> View the interactive agenda