Bollywood: the greatest love story ever told was produced especially for the Festival de Cannes. A member of the Jury in 2011, Shekhar Kapur told Thierry Frémaux how sorry he was to see so few films from Bollywood in Cannes and he started working on this documentary. One year later, Bollywood was screened Out of Competition and this year it is back at Cinéma de la Plage.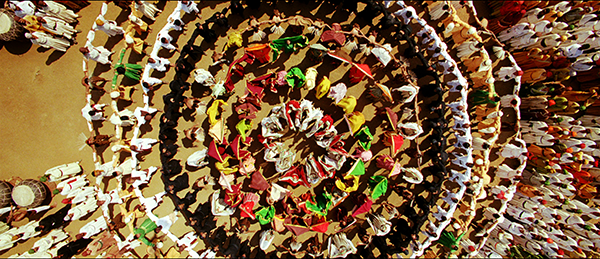 Photo from the film © RR

"For several decades, a fever has struck every generation. It's Bollywood!" This is how the great Indian film maker defended his project, a compilation of the most beautiful moments in Indian film. Directed by Rakeysh Omprakash Mehra from India and the American Jeff Zimbalist (Favela Rising, The Two Escobars), the film retraces seventy years of Bollywood history, from its beginnings in black and white to the present day, with films in brilliant colours.

It's a celebration of a whole film industry and a particular style. Referred to as massala, the Bollywood genre takes on the characteristics of a romance told to music. A patchwork that blends not only film genres – comedy, violence, love and drama all mixed together in one film – but also choreographic styles, from traditional kathak to hip hop and disco. Under Western influence, Bollywood lost its modesty. Kissing scenes were still censored just a few years ago.

Bollywood has also inspired Western directors like Danny Boyle. The British film maker brought in Allah Rakha Rahman, a pillar of Bollywood music, to compose part of the original sound track of Slumdog Millionaire. The film ends with a dance scene in the Bombay train station to the tune of Jai-Ho (Oscar for the best original song in 2009). In Hindi, the title means "hope".

Tarik Khaldi

SCREENINGS
Sunday 19 May / Plage Macé / 9:30 pm