After AI to Makoto, a musical and bloody romance projected in a Midnight Screening in 2012, Takashi Miike, the prolific and iconoclastic filmmaker delivers a "survival" thriller with Wara no Tate (Shield of Straw), presented in Competition.
Inspired by Kazuhiro Kiuchi's novel, Wara no Tate recounts the spectacular misfortunes of Kunihide Kiyomaru, suspected of murdering the granddaughter of one of Japan's biggest political figures, the billionaire Ninagawa. After a reward for his capture is published in three of the country's biggest newspapers, Kunihide Kiyomaru decides that the best thing to do would be to turn himself in at the police station in Fukuoka. But Ninagawa's incredible reward does not make his transfer easy. Kunihide Kiyomaru and his escort of five policemen must face many dangers on the 1200 km journey to Tokyo.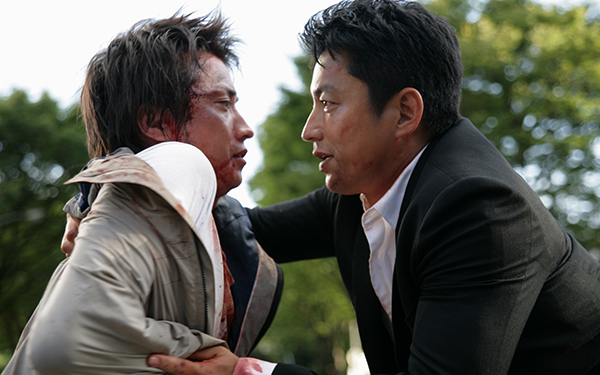 Film still © RR
Takashi Miike, who defines himself as "a filmmaker who tries everything", thus adds another genre to his list and feeding his infectious appetite. After the Yakusa films that marked the beginning of his success (Dead or Alive, 1999-2002), his horror films (Audition, 1999 and Imprint, 2006), his ultraviolent thrillers (Ichi the Killer, 2001) or his 3D samurai film (Ichimei - Hara-Kiri: Death of a Samurai, in Competition, 2011), in Wara no Tate he orchestrates all the components of a survival thriller with a masterful hand. Enemies driven by a supernatural power, the necessary cooperation of totally opposed individuals, breathtaking paranoia, moral dilemmas and astounding actions sequences make Miike's latest film an urban western which in many ways recalls John Carpenter's Assault on Precinct 13. 
Ware no Tate stars two actors who are also familiar with the survival and horror genres: Tatsuya Fujiwara, star of Kinji Fukasaku's Battle Royale (2000), and Nanako Matsushima who played Reiko Asakawa in the television series Ring then in Hideo Nakata's film version (1998).
Pierrette Clain

SCREENINGS
Monday 20th May / Grand Théâtre Lumière / 8.30 a.m. - 10.30 p.m.

Thuesday 21th May / Salle du Soixantième / 11.30 a.m.
>> View the interactive calendar