Daniel Auteuil is a man of both the theatre and the cinema, an actor and director who has played more than eighty roles with the greatest of film-makers, including Claude Sautet, André Téchiné, Patrice Chéreau, Nicole Garcia, Olivier Marchal or Michael Haneke. In 1996, he won the Best Actor Award at Cannes for Le Huitième Jour (The Eight Day) by Jaco Van Dormael and in 2000 he took the César for Best Actor for The Girl On The Bridge by Patrice Leconte. This year, he is a member of the Feature Film Jury alongside Steven Spielberg.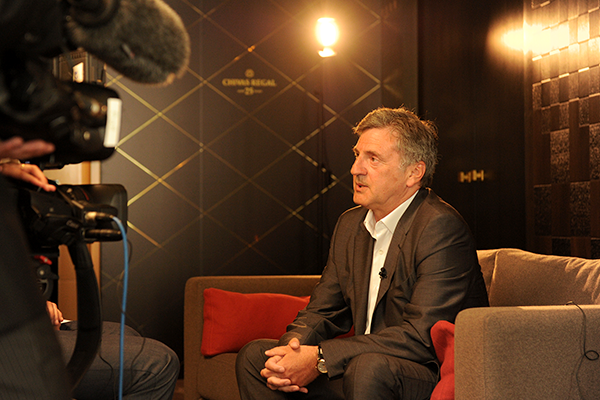 Daniel Auteuil © FDC / Guillaume Thierry

You are part of the Feature Film Jury, which this year represents nine different nationalities. What special contribution do you think your French perspective brings?
Actually, what I notice is that feelings in movies are often perceived in different ways by different cultures. And each nationality is quicker to respond to signs that they recognize. I can feel a form of emotion more easily in French, Italian or even English and American actors, while my Japanese friends might see it differently. For my part, when a movie touches me, I try to understand why, where it comes from. Because in the end, that is what's important. A certain emotion can seem artificial or arbitrary for some people if they don't know where the emotion is coming from.

You have made films with the greatest directors; with a career like yours, are there any directors you would like to get propositions from?
It's really quite difficult to answer that. You hope life will continue to be generous. New generations of directors have arrived, and others are already waiting in the wings. An actor is like a tree, he grows, he gets bigger and he gets older, and we still need trees and old trees, so we'll have to see!

What makes you want to accept a role and, on the other hand, what kind of roles do you turn down?
It has happened that I've turned down roles out of superstition because they touched on my neuroses and I didn't want to have to deal with that. And I have happened to accept roles that are very complicated to live with like that of The Adversary (by Nicole Garcia) for example, this guy who lives a lie and who makes believe to his whole family that he has another life … With roles like that, I feel liberated when the film comes out and it's released to the public. Today, I don't know if I would have the strength to accept roles that destabilize me.

What are the roles that have especially marked you? And why?
Quite often when you are an actor and you make a lot of movies, there is a lightness about passing from one role to the other and it can happen that a role goes around the world while for you it was just enjoyment, a bit of fun. But it doesn't matter; it's of no concern to anyone, the amount of energy that you put in.

When you have been, among others, Antoine, Bruno, Pierre, Louis, Stéphane, Raymond, Paul… Isn't it difficult not to get lost?
No, because I have been lucky enough always to consider that what has happened to me in this business is miraculous and I have continued to work just as I did when I started, with the same energy and in the end, with the same fears. I know that everything I have had has come through hard work and that it is a special strength. You are not what other people think you are, any more than you are what you project. I have that lucidity, so I never got lost.

In 2011 you released your first full-length movie as a director, La Fille du Puisatier. What memories do you have of this passage to the other side?
It was a revelation for me. It was a new craft that took me over. Strangely when you have been an actor for 40 years, the novelty is giving yourself up, I mean that even if I act in my films, it's of no importance, it's a formality. I was able to be concerned with myself for many years but what interests me most now is other people. And I enjoy telling the stories myself.

You have just finished adapting Pagnol's Marius and Fanny. He is an author who has punctuated your career; what is it about him that inspires you so much?
I visit him the same way other people spend their lives visiting Tchekhov or Molière… the themes dealt with by Pagnol are universal, fatherhood, the ties of blood, the links of the heart… He is a universal writer and in readapting his books, I like to let them be heard anew, sometimes by ridding them of things that would have made people laugh 80 years ago, to make them accessible today.


Interview by Vinca Van Eecke