A recent graduate, Lynne Ramsay's debut behind the camera is creating quite a stir. Small Deaths (1996), the short film she made for her graduating project, won the Jury Prize in Cannes. Since then, the Scottish director's career has been enriched by numerous other shorts, but also with three feature films: Ratcatcher, Morven Callar, and We Need To Talk About Kevin, all presented in Cannes. Considered by critics as one of the most solid representatives of British cinema, the director shared with us the way she sees her relationship to film.

What was it that drew you into the realm of film making?
I was always more or less made for it. I did a great deal of photography before going to film school, where I studied cinematography and learned to use a camera. I also took courses in directing. Like photography, directing enables me to concentrate on the details. This is probably the reason I chose to become a director. In addition, even though they were very simple people, my parents took me to see many films, especially the great classics. Then I saw Blue Velvet, by David Lynch. I was 16 years old and I was fascinated. All that played a big role in strengthening my desire to get behind the camera.

Your first efforts drew plenty of attention…
Actually, I was very lucky. The film I made for my graduating project, Small Death, was selected in Cannes and won the Jury Prize. Of course, this award accelerated things.

What memories do you have of writing and shooting your first film?
I remember that I borrowed a camera from the film school. In fact, the school administration was furious because I filmed for two weeks with this equipment. It was really a wonderful experience and I was deeply excited. I filmed in Scotland with non-professional actors. I remember how beautiful the light was. That was when I realised that directing is really something that I have a talent for and that suits me. It's something I have inside me.

What do you think makes a good film?
For me, a good film has to tell a good story, but more than that, it has to know how to manipulate the language of cinema. To touch me, a film has to be very visual. The sound, the music and the characters are also very important criteria. Once again, it's the details that I love. You can say so many things in a story through the images... I like to show things in an original way, I like to push the forms of visual expression to their limit. It is probably because I don't like doing the same things twice. I like to put myself at risk, try things, and learn from these experiences.

What are the phases of your creative process?
I operate in a very visual way. I have ideas for scenes, images that come to me and it is often something that brings a character to life in a less conventional manner. You always learn from your past experiences, from your questionings, from your mistakes. The result is that each time that I start a film, it's as if it's the first time. I think that I have evolved in my way of making films. I have refined my method. And then, every film is different.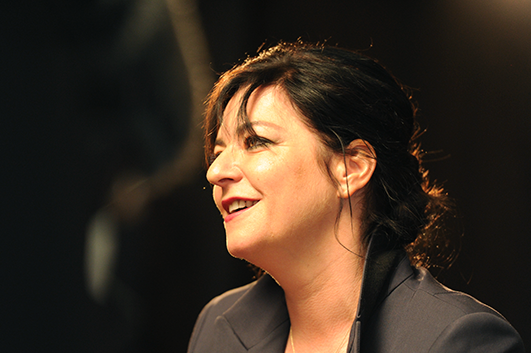 Lynne Ramsay © FDC / GT

You have also made numerous shorts. Do you think this format gets the full recognition it deserves?
Unfortunately it's a format that is not very accessible to the general public. For film makers, however, it's a very interesting format for trying new things, for experimenting. It's also a different kind of enjoyment from that of a feature film, where there is plenty of money at stake and big teams at work. Actually I had not made any shorts for some time. I am presenting one at the Directors' Fortnight this year. I needed to let myself go, especially in the form. Making it was like a recreation.

How do you direct your actors?
It all depends on the relationship I have with them. Most of the actors I have directed have become my friends. Generally speaking, I always end up getting what I want. I need them to give themselves up to me, trust me, but also to my vision of things. This way, I can sometimes push them past their inhibitions, to places they would never have let themselves go. We Need To Talk About Kevin was a very dark film but on set, we were like a big family, we played music, we prepared food… There are so many wonderful things in making a film. And the most wonderful thing of all of them is filming them! The least fun of course is getting the funding. But it is my life and I love it. Directing films keeps me alive. I am never bored, but mentally, it's exhausting.

What do you think is missing today in Scottish cinema?
We have very good directors, with very interesting worlds, but our problem is our accent! In the United States, they need subtitles to see our films! In Britain, we are lucky to receive a lot of government funding, whereas in the United States, young film makers have much more difficulty breaking in. And then too, it would be good to see the male/female ratio become more balanced in the world of film. I think of myself as a film maker who belongs to the world, even if I am Scottish because I was born there and grew up there.

Comments gathered by Benoit Pavan