After The Machine that Kills Bad People (La Macchina Ammazzacattivi, 1948) and Journey to Italy (Viaggio In Italia, 1954), Cannes Classics dips back into Roberto Rossellini's filmography with a restored version of Fear (Non credo più all'amore - La paura) (1954). The film is adapted from Die Angst (Fear), a short story by Stefan Zweig published in 1910.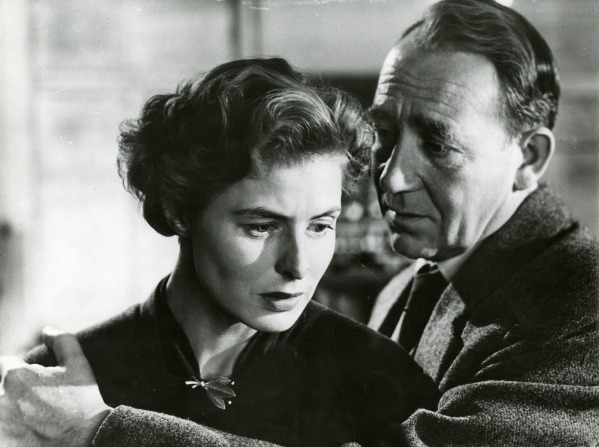 Photo from the film © RR

Fear (Non credo più all'amore - La paura) is the fifteenth feature film made by the director of Rome, Open City (Roma, Città Apperta) (Grand Prix at Cannes in 1946), and is also the last film to come from the close collaboration between the Italian master and Ingrid Bergman after Stromboli (1949), No Greater Love (Europa '51) (1952), Journey to Italy (Viaggio in Italia) (1954), and Joan at the Stake (Giovanna d'Arco al Rogo) (1954). The Swedish actress plays the role of Irene Wagner, an ambitious woman who runs a pharmaceutical company, but beautiful Irene is unfaithful, and Albert Wagner (Mathias Wiedman), her husband, is ready to do anything he can to make her admit to having an affair, including using blackmail. "Fear is a kind of story about cruelty, in which we can see the couple from Journey to Italy destroy each other. Rossellini makes monsters arise from the depths of the hearts and souls of his characters", said Jacques Siclier, historian and film critic, about the film.

If it has been decided to screen the feature film in English, the original version, as part of Cannes Classics, there is also an Italian version of Fear (Non credo più all'amore - La paura) which the producers decided to make without the consent of the film director, three years after it was released as it had encountered so much success. They undertook to shorten the film, to add a voice over and to change its outcome. The film was digitally restored by 4K, by the "Cineteca di Bologna, Instituto Luce-Cinecittà, CSC-Cineteca Nazionale" and the Coproduction Office of the l'Immagine Ritrovata laboratory in Bologna.

Benoit Pavan
SCREENING

Friday May 23rd / Bunuel Theatre / 5:30pm
>> View the interactive calendar