The stupendous Italian actress is the guest of honour at the Festival de Cannes, which has scheduled the screening of a restored version of Marriage Italian Style (Matrimonio all'italiana) (1964), Vittorio De Sica's masterpiece, for the occasion. The screening will be preceded by the presentation of Human Voice (Voce Umana), a short film directed by her son, Edoardo Ponti, in which she plays the main role.

Best Actress in 1961, Jury President in 1966 and a mere eight films presented in the different categories since 1955, date on which she first appeared on the Croisette. Sophia Loren is one of the movie legends that the Festival de Cannes has always cherished. Sofia Scicolone, her real name, shall always be remembered by film buffs as the woman who mischievously undressed in front of the great Marcello Mastroianni, in a now cult scene in Yesterday, Today and Tomorrow (Hier, Aujourd'hui et Demain) (1963), by Vittorio De Sica.

One year later, Sophia Loren worked with the film director, with whom she often shot films, and Marcello Mastroianni again in Marriage Italian Style. The film paints a portrait of Italian society in the Sixties, mocking its opposition to progress and its hypocrisy. Sophia Loren portrays a prostitute, Filumena Marturano, dragged off the streets by a rich man from Naples. This man, played by Marcello Mastroianni, is destined for imminent death and asks the young woman to marry him.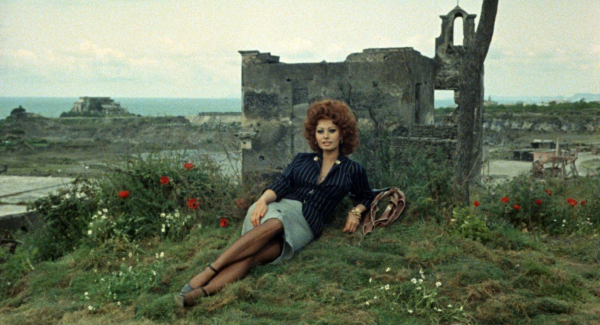 Still from the film © RR
The film works in the form of constant flashbacks showing the relationship between the two lovers. It was restored by the Cineteca di Bologna for Surf Film and the Technicolor Foundation for Cinema Heritage, with help from Memory Cinema for the laboratory, L'immagine Ritrovata. The screening of Marriage Italian Style shall be preceded by Voce Umana, a short film inspired by Cocteau's play about the misfortunes of a woman in the twilight of her life.
Sophia Loren shall also give a master class, led by the journalist Danièle Heymann, on Wednesday May 21st at 4:45pm, in the Buñuel Theatre.

Benoit Pavan

SCREENING

Tuesday May 20th / Soixantième Theatre / 7:45pm
>> View the interactive calendar