Cannes is taking a turn towards Nebraska in the 19th century. In The Homesman, his fifth feature film, Tommy Lee Jones  sets out in a covered wagon with Hilary Swank across the plains, heading for Iowa. The film is inspired by the novel of the same name by Glendon Swarthout.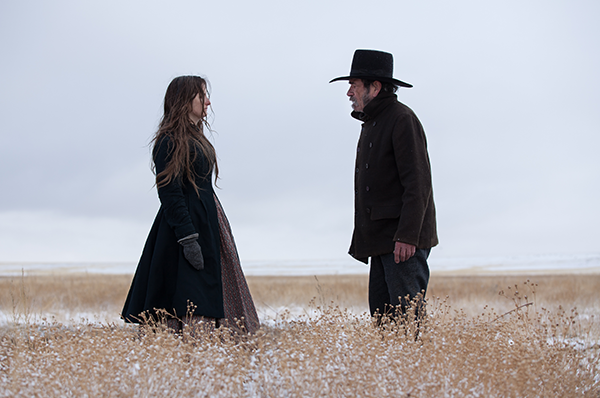 Photo from the film © RR
Mary Bee Cuddy, a strong, independent pioneer, is driving a covered wagon with an unusual cargo, three women who have gone mad, mistreated under harsh living conditions. As for George Brigg, he is on the verge of losing his life. With a noose around his neck, on a donkey ready to let him dangle in mid-air, he sees Cuddy's wagon appear before him and asks: "Are you an angel?"
 
These two strong characters that destiny has placed on the same path learn to get along together to reach their destination. Cuddy is played by Hilary Swank, who learned to ride in 19th-century style, and Tommy Lee Jones plays Brigg, a completely unscrupulous vagabond.
 
A covered wagon on the horizon headed for the Wild West. The Homesman looks a lot like a western, although the actor-director doesn't like calling it that: "The term "western" has been bandied about by so many people that it doesn't mean much anymore."
 
If the 20th-century author was famous for writing novels in this genre, Glendon Swarthout actually only used the décor of the western. The Homesman adheres to the realistic portrait of a harsh environment, sometimes arid, sometimes freezing, that can drive a person to madness. Although not devoid of humour and irony, the book also depicts the job of the homesman, these men who would bring people who have lost their minds back to civilisation, where a straitjacket awaits them. This female homesman inspired Tommy Lee Jones, who says that this is where their present-day conditions originate.
 
Tarik Khaldi

 
SCREENINGS


Sunday 18 May / Grand Théâtre Lumière / 8:30 a.m. - 12 noon - 7:30 p.m.
Monday 19 May / Soixantième Theater / 11:45 a.m.
>> View the interactive calendar