The foremost ambassador of Mexican cinema, Gael García Bernal, was discovered at the age of 22 with the film Amores perros, by Alejandro Iñárritu, with whom he worked again in Babel, selected in 2006. An interview with one of the nine Jury members of this edition of the Festival de Cannes.
Your first film screened in Cannes in 2000, Amores Perros, turned you into an international discovery. What influence did this participation have on your career?
It was also the only film that I saw that year. We were at the Semaine de la Critique, eight of us staying in an apartment in Juan-les-Pins. That year, I was twenty-two years old and I wandered around, it was incredible. I had the feeling that I was very fortunate to experience that with my first film. But I was also very aware of the responsibility that implied. I had started getting calls from all over the place to work and that's always very exciting. Especially because I wasn't sure yet that I wanted to be an actor. I wanted to be a director, do theatre, a bit like some cool doctor who shows up every Friday night; at least I saw myself that way. But I didn't know that I wanted to be an actor, that's something I only knew after three films. Now, yes, I think my profession is acting.
What made the biggest impression on you in the festival at the time?
Something that still strikes me today. Behind this façade of glamour and elegance, behind the big machinery of Cannes and behind the dream and the expectations people have, ultimately everything converges on cinema. If a film is good, the whole festival realises that there is a very good film in such and such a section, even if the film in question is screened in some far off venue at ten o'clock on Monday morning. And I find that amazing. This is what happened to us with Amores Perros, which became one of the highlights that year, if not the top film. It's a bit like a law or a "filmic" justice: the film that triggers the alchemy is the one that calls out to you. It doesn't matter what its status is or the machinery there is behind it, what matters is the cinema. In this way there is a sense of justice, and hope as well.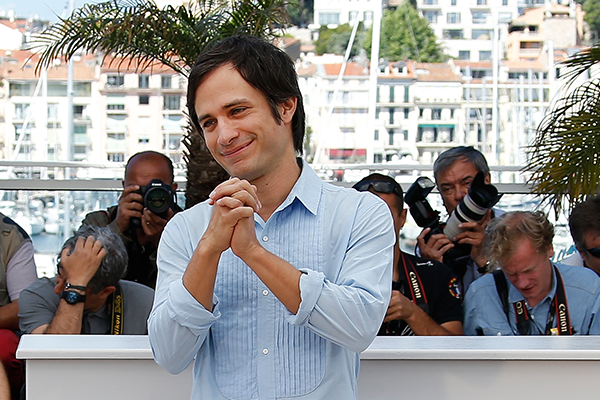 Gael García Bernal © AFP / V. Hache
This year, you directed the documentary ¿Quién es Dayani Cristal? that tells the story of the difficult voyage of an immigrant. The question of immigration and clandestine immigrants in Central America is a theme you feel so strongly about. Why is that?
Because I was an immigrant. I am still an immigrant, we come from immigrant families. And because this is the essence of being human. It is the first great adventure in life: circulating, finding each other, meeting by accident on the road. I think that travelling is the driving force behind any narration. The road movie is, as in literature, an incredible cinematographic genre in the sense that it takes us on a voyage. We leave the cinema with a longing to travel. That speaks to the everyday spirituality of human beings and this is why it interests me. It's something natural and essential for human beings and yet some people cannot make this migration. Migration is often forced and condemned, illegal, and this is a very powerful paradox. Cinema is perhaps one of the few forms of expression that are capable of giving its own identity to the voyage, to this power to enable people to regain their identity. Otherwise, these people disappear, become invisible and in this obscurity, people take advantage of them. I feel very close to them. Fundamentally, I am Chinese, African, Aboriginal, European: a mixture of many things!
You are especially interested in the format of the documentary. Do you think that enough attention is paid to documentaries in the film industry?
I think that there is a growing interest in documentaries. Before, this format may have been more the domain of an intellectual elite. Documentaries were not watched much. When cinema was born, we might say that the documentary was cinema in its raw state. On the evolutionary scale, it is a common trunk that branches out and this format ran alongside cinema for a long time. Now these are films in their own right. Before, they served a purely informative purpose, they enabled people to understand something, but now their purpose is essential, to the extent that the documentary, unlike fiction, really explains things, it's a way of obtaining the substance of information that helps to draw conclusions. I see this with the travelling documentary film festival that we created with Diego Luna: 100,000 people go to it every year in various regions of Mexico, and that is incredible.
Your friend Alfonso Cuarón recently asked Mexican President Enrique Peña Nieto ten questions on the energy reforms in the country. What do you think of that?
I think it is fantastic. It's very courageous and strong gesture. I share his ideas! He is my mentor and my friend!
Interviewed by Charlotte Pavard