Discovered in Asghar Farhadi's film A Separation (Jodaeiye Nader az Simin) in 2011, Leila Hatami is one of the nine members of the Jury for this edition of the Festival de Cannes. An interview with a gracious actress who is a marvellous ambassador of Iran.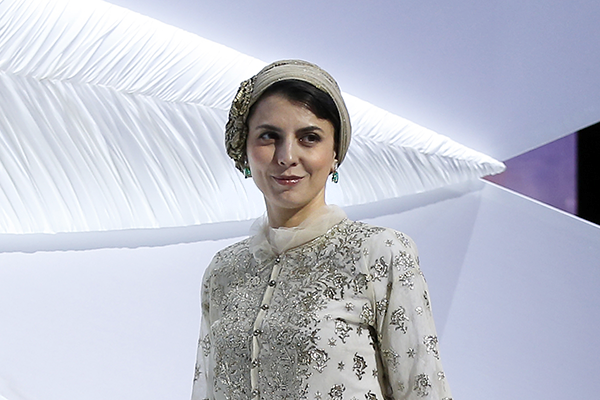 Leila Hatami © AFP / VH
You are a child of cinema, your father was a director and you have acted in his films, your mother is an actress and you appear in the first film directed by your husband, the actor in The Past. Is it important to you to make films with your family?
My family has had a great influence on my love of film. Unfortunately, I did not begin my career as a professional actress until after my father's death. I loved his films, his costume films. Working with my husband turned out to really be a family affair because we did not have much funding. So my husband decided to make two films in a family way, with my mother, my mother-in-law, me as artistic director and on set design. But it is not that I particularly prefer to make films with my family. In general, I do not especially like to work with a given team, a given director, or scriptwriter… I choose my films by studying the script, by examining the role. Even if it is a team that I love, I won't do it if the role does not suit me. 
You speak very good French, you studied French literature. Would you like to see the film adaptation of one of your favourite novels? 
Yes, that would be a challenge. In general, books are much better written than films and they are often not nearly as beautiful when someone embodies them in a film. So it would really be challenging for me to launch into that. For example, my father took famous characters as the inspiration for his films. In a way he was doing adaptations, even though it was not from literature.
What is the particular situation of being an Iranian actress today?
Actually, the difference lies in the conditions for making a film. The work is more difficult for actresses in that it is extremely restricted aesthetically. On the level of the image, a certain aesthetic and artistic freedom is lacking and as far as acting goes, to the extent that we do not have the same kind of accessories to make the acting more credible, we use our physical expression more, our bodies. When you make a film on a very simple set, the camera is very focussed on the actor. It is like comparing drawing and painting. Drawing is composed of lines and it is easy to appreciate the way the pencil is held and the strength of the drawing; it is all so clear, whereas with painting, it is easier to hide one's incompetence. For me, that is what it is about. 
You have an international profile, you also speak English and German as well as Persian. Is Teheran a city in your own image, an international city?
It is not a multicultural city but people are very open to the world, they really follow what is happening in the news, especially in art and fashion! Everyone who has a profession has Internet, they are not closed-minded, they want to see what is going on elsewhere, they have this curiosity to know things - more curiosity than I have, in fact! 
What is your next professional project?
I just finished making a film by Safi Yazdanian that he calls What's the Time in Your World? (Quelle heure est-il dans ton monde) with Ali Mosaffa, who is also the producer of the project. It is a very beautiful film. In a certain way there is a connection between France and Iran and it is a very special love story and very moving.
Is it important for you to make the connection between France and Iran?

No, not especially. My relationship with France is tied to my childhood because my mother put me in a French school when I was very little. Then came the Revolution and this school was closed, so I was left with an imperfect mastery of French. I have always been a perfectionist in learning this language and I am never satisfied with my level, with this abrupt break in my learning at the age of seven.
What kind of a cinephile are you?
It is always very delicate to answer this question so I will give examples instead. When someone asks you what are the most beautiful days of your life, it is not easy to answer right away, you might say marriage or children... But there are so many days when you may have been even happier. So to give you an idea, I am a real fan of Truffaut, I really love his films, I have seen them all. But I also really like Tarantino, Haneke, Woody Allen, Mr. Kiarostami, of whom I am a great  admirer, and Polanski.
Interviewed by Charlotte Pavard