After participating in the Official Selection seven times, either behind or in front of the camera, and after participating as Jury member twice in 2000 and 2004, the Caméra d'or Jury President tells us how she feels about this role. A chance to talk about the first films viewed.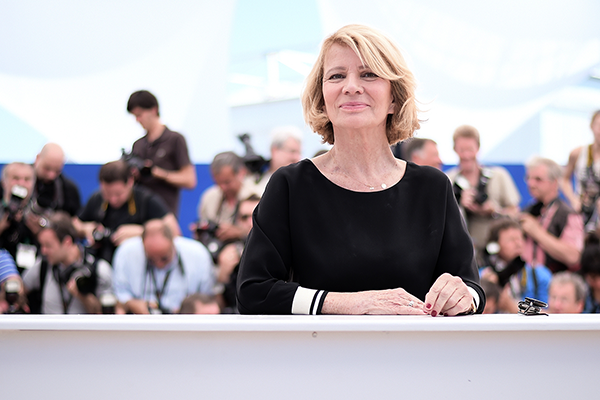 Nicole Garcia © AFP / BL
You are the Caméra d'or Jury President, how have you taken on this role? How many films have you already seen (interview directed on May 20th)?
We have 15 films to see, there are 5 left. I think discussions are going to be tough. As always, the personalities of the jury members are different. I feel even more responsible as jury president, so I have to be very democratic! I must listen to what everyone has to say. This won't stop me from saying what I prefer loud and clear. Now, I'm not sure whether I'll be won over: I'll use my two votes in case of a dilemma! I already particularly like two films, but I'm not going to tell you which ones.
What is so special about a first film? Is it different to watching short films, like in 2004 when you were jury member?
It's similar. We watch a film, whether or not it's a first film. The emotion that may transpire, any empathy with the film, is the same, regardless of whether the director is a great artist or unknown. The difference is that we have nothing to refer to, unlike when we watch a film by the Dardenne brothers or Cronenberg. The wonderful thing about the Caméra d'or is the emergence of a director. We imagine that it's the first time that a director uses his/her imagination to make a film; it's a promise for the future, and we also imagine that the art is already present. He/she already knows how to capture reality. I find the first artistic gesture very disturbing.
Does this make you think of your work as film director?
As director, I think about it; there's something that captures what cinema is about, one's own sensitivity, one's own imagination. It's like a kind of overturning, as if you're embracing unknown territory. Without the experience that will become ours once it's over, without having refined anything whatsoever. With absolutely no experience, like all first times in life. When we think that The 400 Blows (les 400 coups) was a first film, I hope that we'll have as much judgment as the people who've seen Jarmusch or Steve McQueen. It's difficult because there are a lot of very interesting films in this Selection, and that's why I feel it's going to be tough. Some films are more awkward than others, but their staging is strong enough to make them more appealing than others. 
As it happens, what are the keys to success for a first film?
I don't think that there are keys to success for a first film, I think there are keys to success for a film. As Jury President, I hope that my judgment won't fail me. What I know is that, at the end of this Official Selection 2014, a lot of first films are very promising. It's going to be difficult to decide between them, there will most certainly be a lot to discuss for 5 films as they are very interesting. I can say that we would like to see the second films made by their directors. This is the most concrete criterion, wanting to see the second film.
You often say that the set plays a key role in the turn of events when shooting a film, you often put "the scenario to the test of the set". Do you feel influenced by your childhood in Oran, do you feel the need to film in a particular atmosphere?
I'm strongly attracted by the Mediterranean, its light and shadows, the history of Algeria, of exile run through me. That has obviously had an influence on me. The strong Mediterranean light is also accompanied by violence, fear, shadows and light: contrasts that take me back to my childhood. As for what you said about my need to think about the scenario in relation to the set, to always search for the most appropriate set corresponding to the atmospheres that I dreamt of whilst writing, a long time before filming, it's a very important moment for me. I look for the best sets in the same way as I look for the best actors to play the roles of characters who are only on paper. 
You're preparing Mal de Pierre, a scenario inspired by the book written by Milena Angus, a Sardinian author. Is this the next project that you'll be working on, and can you tell us about it?
It's a project that I've had for a long time, my producer, Alain Attal, had bought the rights for me. I was bogged down in the scenario for a long time, and stopped everything. I made Going Away (Un beau dimanche) because I wanted to make a film quickly, a film which was much more modest than my previous one. I could have given up on Mal de Pierre a bit like a train when it stops in the middle of nowhere, but there was something about the subject that I couldn't bring to fruition and I'd really fallen in love with the book. Jacques Fieschi helped me to rework the book which could have meant real problems adapting to the screen. Sometimes in books, we can allow ourselves jump cuts which don't work in films, and we found ourselves having to create a new temporality to make it into a film. I'll be shooting in spring 2015.
We're over halfway through the Festival, how do you feel at this stage?
Tired! We're not relaxed, unlike the simple spectators watching the films screened here. We live and breathe the tension of the competition. I've fallen in love with two or three feature films, and I'd like them to be in the list of award winners. The jury's great, everyone has very different, interesting personalities. It's exciting, there's a kind of maelstrom in Cannes that makes everyone tense!
Interview directed by Charlotte Pavard