Jaime Rosales makes his second appearance in the Official Selection with his fifth feature film. The Spanish director returns to Un Certain Regard seven years after Solitary Fragments with Beautiful Youth, the story, set in the present, of a young couple in crisis-ridden Spain. An interview.
Tell us how your film came about.
Just after the release of my previous film, I started to think about a change for my film career. I had worked since my first film with the same crew shooting and thinking in the same way. I wanted to do a film about the young Spanish generation with young people involved. I started to interview teenagers in parks and streets. They told me their stories, their ideas of the world, how they foresee their future. The film is the result of this research and collaboration.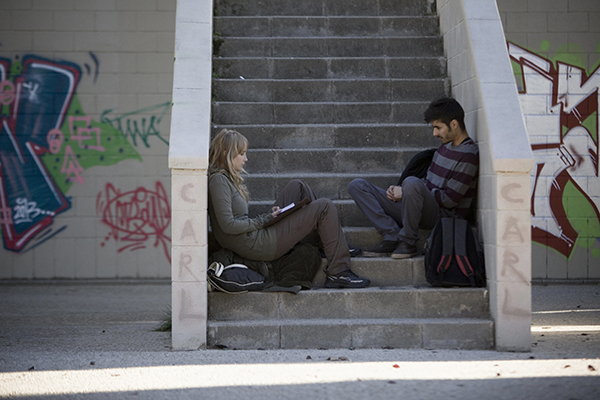 Photo from the film © RR
Any special memory or anecdote from the shooting?
Working with the crew and cast, especially with Ingrid García-Jonsson, the main actress of the film. I remember the impression she made on me the day I cast her. She was so natural and so confident on herself. I had never cast, seen or worked before with someone as naturally talented as her. During the shooting, working with her was not easy although. She is very demanding. She doesn't follow directions just like that. She is incredibly intelligent. She needs to have control of the character and the dramatic situation of the scene. She needs to know why the character is doing this or that. And at the same time she is intuitive and naïve. Her method is a mix of consciousness and unconsciousness very unusual. She can be very difficult to control. Quite unpredictable. We had fights. I wanted to squeeze the best out of her and she worked hard. Now, after finishing the film, I think the film is Ingrid. Just her. I could watch her scenes over and over. 
Can you tell us about your next project?
I don't know yet. I have a few ideas on my mind. I have a few characters and stories on my mind. I generally need some time to decide which story and characters I want to make a film about. It is a bit like a long run race. During a long period of time, a year or so, I allow myself to have plenty of different ideas and characters for films. As time goes by, I stop thinking on some of them. I abandon them or they abandon me. Others stay through a long time. I end up doing the one who has stayed longer with me.
What type of cinema has influenced you?
My main influence is modern cinema: Italian neorealism, la nouvelle vague, Russian and Japanese cinema. The work of Bresson. I am extremely fond of Bresson. Ken Loach and the Dardenne Brothers are important to me too.
What question would you like to ask the director of your choice?
When I was resident in la Cinéfondation du Festival de Cannes, ten years ago, Georges Goldenstern asked me the same question. My answer was: "I'd like to meet Jean-Luc Godard" He said: "Oh... I'm sorry... That's not possible. Godard is not possible". His new film is In Competition in this years' Festival. Maybe he comes. Maybe this time I am lucky and I can meet him. 
Charlotte Pavard
SCREENINGS

Sunday 18th May / Debussy Theatre / 2 p.m. - 10 p.m.
>> View the interactive calendar