Snow In Paradise is the first feature film by British filmmaker Andrew Hulme. The screenplay was inspired by a true story about a petty delinquent named Martin Askew, who grew up in the East End of London in the milieu of organised crime.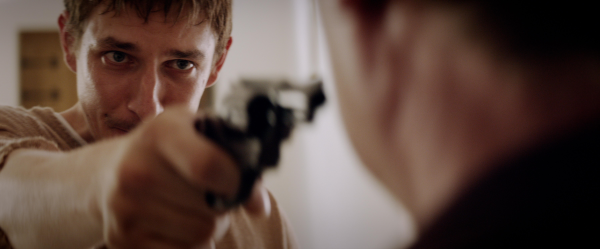 Still from the film © 2014 Snow in Paradise UK ltd / James Taylor-Meme
Tell us how your film came about...
I met Martin Askew (my co-writer) in a short film club we were both taking part in. It quickly became clear that his life story was bigger than anything we were writing. We used his journey from petty criminal to born again Muslim as the basis of our script. Of course we dramatised it but it essentially remains a true story. At the time I happened to be working as an editor for a producer called Christine Alderson. She expressed great interest in the story and pushed us onwards until we had a decent draft of it. At that point we tried to get funding from the UK but met with nothing but indifference and lack of interest. It was quite depressing to realise we had a story that we saw as important but no one else wanted to tell it.
How did you succed to get the money to shoot it ?
I cut a promo trailer for the film from other people's films, using their images to tell our story. It's very cheeky I know but the effect was to help everyone to see how the story would play out. It worked brilliantly and suddenly we were accepted into Rotterdam's Cinemart. Then, pitching it for the first time we found a huge amount of interest in the project from other European countries, France and Germany in particular. This was incredibly encouraging and I have to thank Jacobine Van Der Vloed for her championing of us. It was from Cinemart that we gathered most of our partners. The trailer also helped us hone the script. It was becoming more of a thriller than a character drama, more open as a film, embracing both art house and commercial. But half a million pounds wasn't really enough money to make the film with. Well that's what I was told. I thought the story was so important I would have shot it for a fiver on my mobile phone. I felt I could make it work, it was just a case of thinking differently about the approach.
What was the idea you had in mind when you started to work on your project ?
I knew I didn't want the film to look like anyone else's - and that included the casting. The film revolves around one character - he's in every single scene. I saw lots of young hopeful actors but none of them were right. I wanted someone authentic with an unusual look. We had an open call and found a guy who'd been spotted smoking a fag in a bad mood. Frederick Schmidt had just had an argument with his boss and proved to be an amazing find. He'd never acted before but looked great and had an intelligent approach that meant when he underwent acting coaching he thrived. Casting Martin as the film's antagonist also proved to be a coup. He knew the world and the characters we were making inside out. Both he and Fred went on a transformative journey becoming these two great rivals in the film. I see more charismatic faces in my local supermarket than I see on most casting sheets so I ended up using a lot of non-actors for roles because I thought they looked right. Thankfully some of them could act as well.
Tell us a bit about your crew...
I chose a brilliant DoP called Mark Wolf who just shrugged at the ridiculously tight schedule; called in favours from my partner Alex, an art director and her best friend Sophia, a set decorator; found a team of people who believed in the story and we set off to make it in 20 days. 4 scenes a day - everyone thought we were mad, a schedule worse than television. "Insanely ambitious and stupidly budgeted" said our line producer Ness. I think I was scaring people at this point - everything was an unknown and everyone was way out of their comfort zone. For me though film is about taking risk and nothing was ever achieved by timidity. Luckily, we had no disasters and I'll be forever grateful to everyone who helped turn what could have been a nightmare into a great creative experience.
 
Any special memory or anecdote from the shooting ?
An army of extras turning up to a "jazz club" keen to hear some good music only to find out it was  improv. The look on their faces when they realised they had to spend all day listening to a squawking saxophonist was priceless. Poor things.

Can you tell us about your next project?
I've got 20 years of notebooks I'm struggling through, trying to work out which of my outdated ideas may be worth resurrecting.

What type of cinema has influenced you?
When I was a teenager I watched films like Stalker and Eraserhead at the Midland Group in Nottingham and I remember wondering how anyone had the imagination to make such things. I would also watch hours of experimental cinema from artists like Stan Brakhage that made me feel like I was on drugs. It also made me think that art has a place in the cinema. I still think so.
SCREENINGS

Wednesday 21 May / Debussy Theatre / 2 p.m. - 10:30 p.m.
>> View the interactive calendar