With Bridges of Sarajevo (Les Ponts de Sarajevo), shown in a Special Screening, thirteen renowned European filmmakers approach the history of the Bosnian capital, a prism that reflects the European political situation since 1914.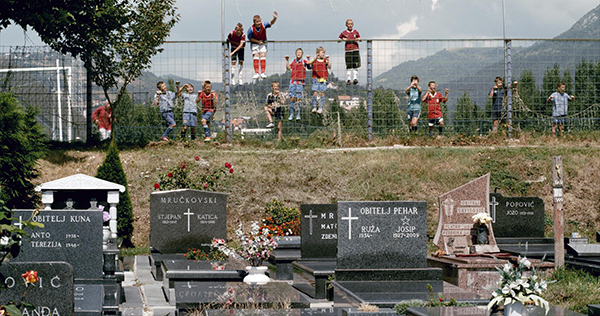 Photo from the film Bridges of Sarajevo © Cinétévé • Obala Art Centar • Bande à part Films • Mir Cinematografica • Ukbar
What does Sarajevo represent in European history of the last century? What does this city embody in Europe today? All the history books evoke the assassination of the Archduke François Ferdinand on the "Latin" bridge as the trigger that set off the conflagration in the Austro-Hungarian Empire of the time. One hundred years after the start of the "Great War", thirteen leading contemporary filmmakers -Aida Begic, Leonardo Di Costanzo, Jean-Luc Godard, Kamen Kalev, Isild le Besco, Sergei Loznitsa, Vincenzo Marra, Ursula Meier, Vladimir Perisic, Cristi Puiu, Marc Recha, Angela Schanelec, Teresa Villaverde - capture this city in their cameras under the artistic direction of film historian Jean-Michel Frodon.
François Schuiten, the Belgian illustrator of Cities of the Fantastic (Cités Obscures), famous for his drawings that evoke architectural motifs, imagines graphic bridges, busy with activity, connections between the different short films that make up the film; so many metaphors of the diversity of an incredibly rich city, under the influence of the Ottoman and the Austro-Hungarian empires. The film will also be one of the key events in the commemoration of the centenary of the First World War in Bosnia-Herzegovina. A hundred years after the start of the global conflict, a gesture to send a message of peace and reconciliation. 
Charlotte Pavard
SCREENING
Thursday 22 May / Soixantième Theater / 6:45 p.m.

>> Go to the interactive calnedar