This year, Cannes welcomes Mexican actor Gael García Bernal in two capacities. He will sit on the Feature Film Jury and he will also be on screen, in The Ardor (El Ardor), a third film for director Pablo Fendrik, a modern-day western set in the tropical forest of Argentina.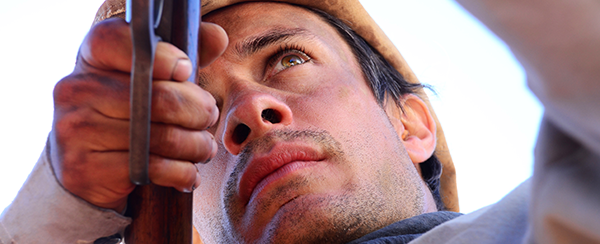 Photo from the film © RR
Kai is a young man of a mystical, solitary nature. One day, as he makes his way, bare-chested through the jungle, he witnesses an attack by mercenaries on a tobacco farm that they have wanted to take over for some time. As they could not get it by making threats, they kill the owner and kidnap his daughter, Vania. So Kai embarks on a manhunt through the tropical forest, in pursuit of the mercenaries, to avenge the family.
 
Far from the dusty plains of the American wild west, Pablo Fendrik fundamentally rethinks the western. By resetting his story in the Amazonian jungle, he makes nature a major protagonist. His camera tracks travelling shots of the scenery, highlighting the beauty and the mystery of this region, the oxygen tank of the earth.
 
This is the environment in which the characters evolve, those who preserve it and those who destroy it. As a backdrop to The Ardor we see the deforestation and the expropriation of the local populations. Pablo Fendrik has gone in search of farmers who have been the victims of this jungle gold rush. He has documented his screenplay with the experiences of these threatened and sometimes hunted people.
This "Mesopotamian western", as Pablo Fendrik likes to call it, also steers clear of the typical Manichean approach of the genre. Kai (Gael García Bernal), Vania (Alice Braga) and the other characters are more complex. The psychology of Tarquinio, the leader of the mercenaries, is especially well wrought. Where a classic western would have depicted an unscrupulous and lawless bandit, Fendrik depicts the "bad guy" as a character at the end of his tether, who has had a hard life. The Ardor is a suspense-filled story of vengeance, a struggle between two ways of living.
 
Tarik Khaldi

 
SCREENING
Monday 19 May / Buñuel Theater / 7:30 p.m.
>> Go to the interactive calendar