Born in Kazakhstan, Adilkhan Yerzhanov is making his debut at the age of thirty-two in the Official Selection with The Owners. This feature film depicts the struggle of three siblings to try to regain possession of a house in a remote region that has been left to them in an inheritance.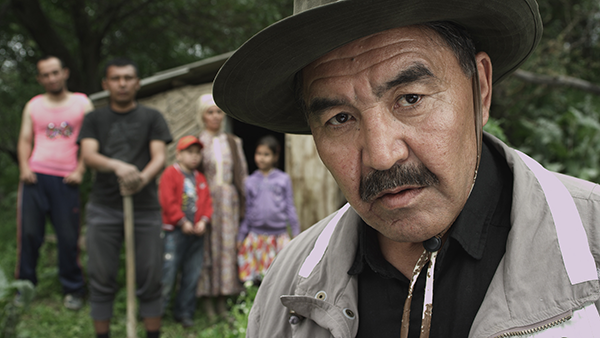 Photo from the film © RR
When John, Erbol and Aliya are forced in despair to leave their residence in the big city of Almary, they have only one alternative: to return to a remote little village in Kazakhstan to live in the house left to them by their deceased mother. But once they arrive, the three siblings are sorely disappointed. They discover that the house has been occupied for the last decade by an alcoholic squatter who refuses to leave.

The Owners is the third feature film in three years for this young Kazakh filmmaker, after Rieltor (2011) and Stroiteli (2013). Society's indifference to injustice, harassment and the despotism of corrupt public authorities are the central theme of this film that draws on "a brutal reality and a childlike joy", the director explains. Visually, Adilkhan Yerzhanov wanted to show this aspect of Kazakhstan through the absurd, notably with a visual inspiration from the work of the Dutch painter Van Gogh.

Winner of the award for best screenplay in 1999 for Kozy-Korpesh and Bayan-Sulu, the first animated series ever made in Kazakhstan, the filmmaker explains that he has tried to eradicate the clichés that he says "are so pervasive in most films about social issues". Adilkhan Yerzhanov also says that he has tried to articulate his feature film around "an artistic language" that is infused with local folklore and in this manner, to give The Owners an identity of its own. "This film is my artistic attempt to make society more aware of what ordinary but vicious routines are capable of doing to people," he explains.
 
Benoit Pavan


SCREENING


Saturday 17 May / Soixantième Theater / 7 p.m.