The South Korean director July Jung's first feature film, A Girl at My Door, numbers among the Official Selection lineup for the 2014 Festival. The thriller tells the story of Young-nam, a local chief police officer and a strong woman, yet one whose stability is gradually undermined as she protects a young girl from her violent stepfather and deals with a sensitive investigation that threatens her life.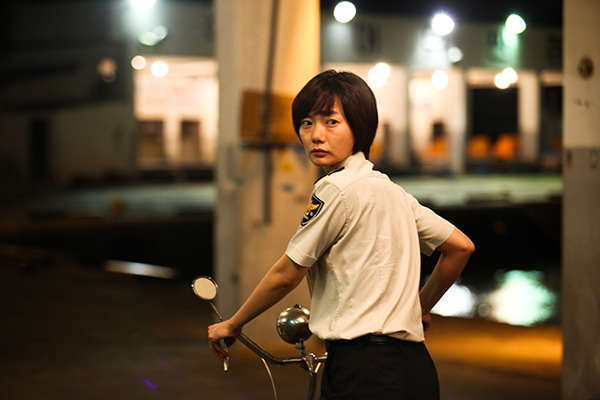 Photo from the film © RR
Tell us how your film came about.
A long time ago I heard a story about a cat which was loved by its owner. But when a new cat appeared, the owner's affection moved to the new one. The poor cat wanted to get its owner's love back. On one morning, as the cat owner tried to go to work, she screamed with shock at finding a dead rat in her shoe. The owner suspected her old cat. With anger, she beat up the cat, thinking the cat had behaved badly on purpose. The next morning, as she tried to wear the shoe, she was astonished again. This time, there was a rat with its skin peeled off in her shoe.
"A Girl at My Door", a story of two lonely people who had never communicated with others successfully, started from this idea. By exposing these two women to an extreme situation, I wanted to show how difficult it is to be connected with someone, and how hard it is to continue that connection.
Any special memory or anecdote from the shooting?
It was when we had two more shootings to go. We planned to shoot the film at the police station in Kanghwa, and then go to Youngjong-do at night. I looked for Doona in the morning before starting shooting that day. Doona usually came to the shooting location on her own without her agent. I went to her car to see her, and she handed me a thick book. was written on the cover. It was a book of still photos she had been taking during our shootings. I was very touched. After we finished shooting at the police station, she gave the photo book to every single member of staff. It was unbelievable that she made this book, considering that she had to stay up almost every night for the film shooting. She said she chose photos and designed the book during her spare time when she went back and forth between shooting locations. All the staff were really impressed. By receiving the book, we could feel how much she loved this film, and how much she cared about the staff. There were a lot of difficulties in the film shooting process, but I believe that we finally made it with the same affection for our film. And I feel really fortunate to have met and worked with these people.
Can you tell us about your next project?
Since I've just finished the post-production of "A Girl at My Door", I don't have any specific plans about my next project. However, I have a story which I've been thinking about for quite a long time. It is a story about a girl who gets insulted by her lover. This girl is older than 'Dohee'. She will be a grown-up the year after, she is more like a woman than a girl. With her broken heart, she has to make a decision. For now, I can only tell you that the story was inspired by a piece of writing by Freud.
What type of cinema has influenced you?
I love the films of Pedro Almodóvar and Jean Renoir. I also admire Stanley Kubrick and David Lynch. About 10 years ago, I was thoroughly impressed by their films, which I watched at the Cinematheque in Seoul. I think those times have made me keep working hard so far. In addition, works of Shohei Imamura and LEE Changdong made me think about the principle of the human being and the movie. From their movies, I was able to learn how to contemplate as I evolved from being a film lover to a film director.
 

SCREENING


Monday 19th May / Buñuel Theatre / 11 a.m.
>> View the interactive calendar