Côte-d'Ivoire-born Philippe Lacôte Began his filmmaking career in 1994 with the short Somnambule. Since then, the director has added a number of documentaries and fictional shorts to his portfolio. In Run, His first feature film, he depicts the crisis which raged through his country at the beginning of the 2000s. The film is in the running for the Caméra d'or.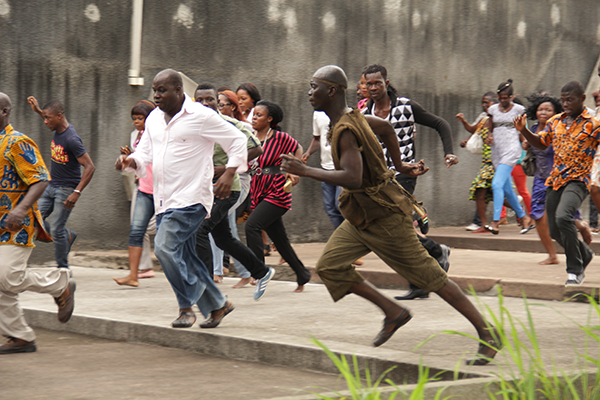 Photo of the film © Banshee Films

How did you have the idea for this film?
Run grew out of documentary work which I began over a decade ago in Côte d'Ivoire. I set out on 15 September 2002 with a digital camera in Yopougon, a suburb of Abidjan where I grew up, to try and capture the state of mind of a generation. Three days later, the rebellion broke out. So I began filming my district during the first three weeks of the curfew. One day, I went to interview a Young Patriot and I asked him how he had joined the movement. His answer: "Me, I've got three lives". I spent five years on the documentary Chroniques de guerre en Côte d'Ivoire, which became a sort of autobiographical portrait. But I was always haunted by this phrase and that's what made me want to tell the story of the young man with three lives.
 
Do you have a special anecdote from the shoot?
Run deals with a political subject in a country that is emerging from conflict. These things are sensitive there. We were accused of being non-partisan and a fierce debate broke out in the press. I remember the day I saw my photo on the front page of a newspaper with the headline: "This man is dangerous"…After that it was difficult to film in the streets of Abidjan even though this never stopped us making the film.

Can you tell us about her next film?
My second feature film is to be called If God Says Yes and takes place in Maca, Abidjan's prison. It's a free adaptation of a novel by Edgar Allan Poe.  it's all about love and shipwrecks, pirates in search of the Holy Grail and perversity. We're looking for partners.

Who are your cinematic influences?
Film is international and some directors who are no longer with us are more contemporary than others who continue to make films… If I were to be influenced by cinema, it would be a film containing a sequence from Costa-Gavras' State of Siege, a sequence from Game of Death with Bruce Lee and one from Stalker by Tarkovsky, and all back-to-back with 30 minutes from a film by Sergio Leone…

SCREENING

Saturday, 17 May / Debussy Theatre / 11.30 am