Wim Wenders presents The Salt of the Earth for his fourth participation at Un Certain Regard. A portrait of the great travelling photographer Sebastião Salgado, in collaboration with his son, Juliano Ribeiro Salgado.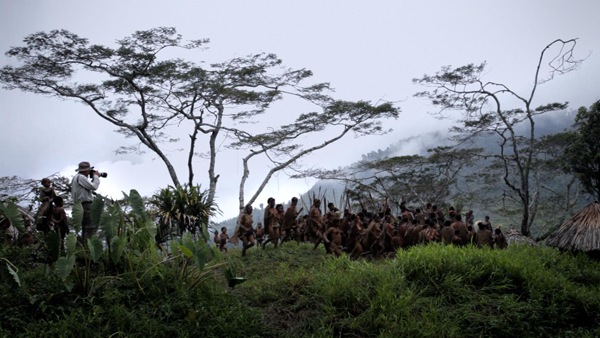 Still from the film © RR
Tell us how your film came about...
About a quarter of a century ago, I bought two prints by a photographer whose name I didn't know yet. But those two images really spoke to me. I hung them over my work desk. That photographer became a household name since: Sebastião Salgado, and myself an unconditional admirer of his work.
We finally met in his Paris office, 4 or 5 years ago. He showed me his workshop and I caught a first glimpse of "Genesis". That seemed like an incredibly exciting new work of his, and like all his previous endeavors another extreme long-term project. I was fascinated, by his dedication and his determination. And we met again, discovered our common enthusiasm for soccer, started to talk about photography in general, and then he asked me one day if I might consider joining him and his son Juliano on an adventure that the two of them had already started, vaguely, and for which they felt they needed another point of view, a vision from outside.
Any special memory or anecdote from the shooting?
As much as I was ready to make a film about a photographer, it slowly dawned on me, as we started to shoot, and as I got to know Sebastião more closely, that he was so much more than a photographer, and that we really had to include the "other side" of his. And that is his work as an ecologist, or as a visionary of the future of our planet. And then again, as we ventured into this realm, I realized that this needed to be a film about him and his wife Lelia as well, as the two of them worked so closely together, almost in a symbiosis. And then, in the process of our film, the more I got to know my co-director, their oldest son Juliano, I realized I was really part of the family now. We spent an exciting time together.
Can you tell us about your next project?
It is a fictional film called "Every Thing Will Be Fine", a family drama starring James Franco, Charlotte Gainsbourg, Rachel McAdams and Marie-Josée Croze. We shot last summer and this winter, all of it in Quebec. Right now I'm editing. It's the first time I'm using 3D in a fictional context.
What type of cinema has influenced you?
The Nouvelle Vague, Classic American Cinema, Japanese Cinema, the New American Underground. But to be honest: I think I was more influenced by the history of painting than by the history of cinema.
SCREENING

Tuesday 20th May / Debussy Theatre / 5.00 p.m.