Turist is Ruben Östlund's fourth feature film and marks his second selection for Un Certain Regard after Involuntary, presented in 2008. In 2010, the Swedish filmmaker shot to even greater prominence by picking up the Golden Bear for Best Short Film at the Berlin Film Festival with Incident By A Bank. Turist tells the story of a family of Swedish holidaymakers whose relationships are severely tested following an avalanche.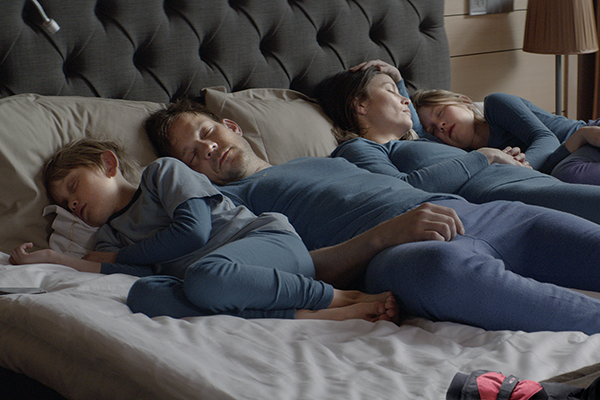 Photo from the film © RR
 
Tell us how your film came about…
The whole film actually arose from quite a simple idea: a family on a skiing holiday is eating lunch at an outdoor restaurant high up in the mountains. Suddenly, they see the beginnings of an avalanche tumbling down a distant mountainside. Everybody in the restaurant is initially excited, but as the avalanche breaks up and gets bigger the mood begins to change. Within three seconds, their cheering turns into nervous laughter and then into screams of total panic. The last thing that we see before everything turns white is the mother, Ebba, calling for her husband Tomas as she tries to protect their children. Tomas, meanwhile, is running for his life… abandoning his family. But the anticipated disaster fails to occur. Only snow mist reaches the restaurant, the avalanche stops 150 metres away. Tomas now has to return to the table and deal with his awaiting family and crumpled self-image.
Why did you choose to shoot in the French Alps?
I've been skiing in the in the French Alps many times and have always wanted to make a movie that takes place in a ski resort. But it was hard to find a scenario that I found engaging and existential enough in such a kitsch, neon-coloured environment. 
Any special memory or anecdote from the shooting?
I will definitely remember the effort everyone put into the avalanche scene. One of our goals was to create the most spectacular avalanche scene in film history and I actually think we succeeded.
Can you tell us about your next project?
I'm fascinated that we humans find such joy in watching monkeys. I think it's because we feel strongly connected to them and yet we can watch them without being embarrassed by their instinctual behaviour. It would be fantastic to let twelve naked actors play monkeys for two hours with a view to mirroring our own behaviours. 
What type of cinema has influenced you?
Various types of cinema have influenced me at various times. The first film that really stuck with me was Harmony Korine's Gummo. More recently, I really loved Xavier Dolan's Lawrence Anyways and Leo Carax's Holy Motors. But since I was brought up in Sweden during the 80's, Roy Andersson's commercials have affected me way more than any of the movies in film history.
SCREENING


Sunday 18th May / Debussy Theatre / 11 a.m.
>> View the interactive calendar