Barbet Schroeder made More in Ibiza, Spain in 1968. In situ, he brought to life the story of a couple of "'enfants terribles" torn apart by drugs and love in a movie topped off by an original score by Pink Floyd… As part of the evening devoted to Barbet Schroeder, the director gave us some insights into the making of the film.

How was More born?
I started thinking about my first movie in 1964. My ideas developed in a kind of disjointed way: I wanted first of all to follow my ideas of how film-makers worked, in other words make a film on something I knew about. I had already been living in Ibiza for fifteen years, so naturally I chose that location for the film. At that time, I was thinking about a number of stories, stories that involved the figure of the "femme fatale", but a modern "femme fatale". Like a vampire movie. I was also influenced by the story of Icarus whose wings were burnt because he flew too close to the sun...

The film is about drugs, sexual freedom. Were you afraid of censorship at that time?
Of course! We knew that if the film had French "nationality", it would be banned by the censors. We would never have been able to market the film. We managed to export it because the financial backers were American.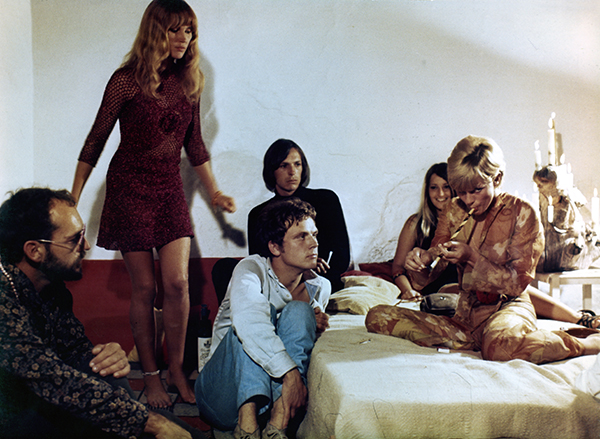 Still from film © RR 

What was the most complicated part of the shoot?
I was pretty confident about the film, in spite of our small budget. Even so, More could easily have come to grief because we were making the film in Spain, under the Franco regime. We were obviously shooting in secret: it was vital that nobody knew we were making the film. When it was finished, back in Paris I found out that a hundred people all around the world knew about the film and had kept the secret. For La Vierge des tueurs (Our Lady of the Assassins), I also came up against pretty draconian conditions on the shoot.
 
What is your best memory on the set?
Without hesitation, it's Mimsy Farmer's performance at the end. I had wanted a really dramatic scene and it paid off completely.

More has been restored from a 2k scan by Digimage Classics. Calibration was supervised by the director.
 

Interview by Hannah Benayoun

 
 
SCREENING


Tuesday 19 May / Buñuel Theatre / 9.30pm
>> Access the interactive agenda