The Palme d'or is sixty years old this year and to celebrate the occasion Alexis Veller offers us a film about the legendary trophy, which is unique to the Festival de Cannes. To document La Légende de la Palme d'or, the former senior reporter travelled to the source in the gold mines of Colombia, and visited the greatest winners of the prize to ask them how they felt about their trophy. Including Scorsese, Tarantino and Soderbergh, he interviewed especially those directors who had won the prize twice, as well as the only woman to have received the coveted award, Jane Campion.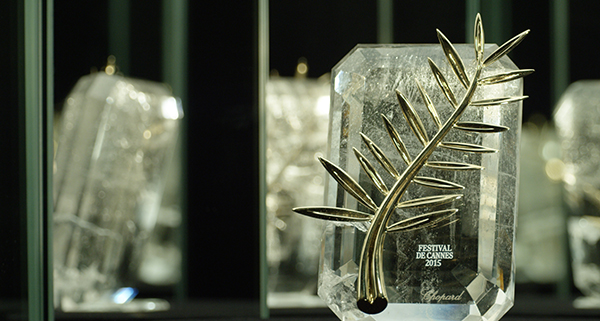 Still from film © RR
How did you set about putting together this documentary about la Palme?
It started with a wish to do something around the sixtieth anniversary of the Palme and tell the story of the trophy in terms of how it came about. I realised that of all the prizes awarded in the cinema there was only one Palme d'or, whereas there are several Oscars awarded each year. It is 18 carat solid gold, and we know exactly where that gold comes from. I wanted to go to the source, with the miners. It is fascinating to think that it all starts in a simple mine in Colombia to finish up in front of cameras from all over the world. That fact also endows it with a social dimension.
Was filming in the mines of Colombia difficult?
The conditions were a bit extreme. We were filming 300 metres underground in galleries no more than a metre wide. That said we were shooting in a very safe installation, where the miners were working calmly, very different from the way we sometimes imagine Colombia to be.
How did the story of the Palme come to be associated with the Festival?
I don't think we talk enough about this prize, which all film makers want to win. We all come to Cannes for this Palme, which ends up in the hands of very different directors: Taxi Driver, Sexe, Mensonges et Vidéo (Sex, Lies and Videotape), the film by Apitchatpong… And yet, Tennessee Williams, when he was President of the Jury, thought that Taxi Driver was too violent, according to Scorsese. It was Sergio Leone and Costa Gavras, who were members of the Jury that year, who pushed for Taxi Driver to win the Palme. Cannes is a great revealer of talent and the Palme d'or never gets it wrong. It always ends up in the arms of a director who will mark the history of cinema. None of them, from Tarantino to Soderbergh (who won it at the age of 26), had ever been interviewed about the actual object, the "Palme d'or". Tarantino agreed to be interviewed in the middle of a shoot, which is something he never does: "For the Palme d'or, I'll do it !"
Charlotte Pavard
SCREENING

Saturday 16 May / Buñuel Theatre / 9.15pm
>> Access the interactive agenda