"The best script I've read in five years". Joining the cast of The Sea Of Trees was a no-brainer for actor Matthew McConaughey. Under the guidance of Gus Van Sant, the acclaimed Oscar-winner travels to the mysterious Japanese forest.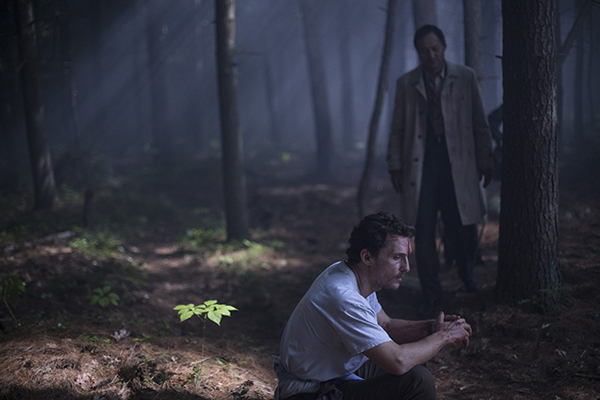 Film still © Jake Giles Netter

When you enter the Aokigahara forest, you penetrate a dreamlike space, a refuge of spirits among the treetops. Arthur Breenan (Matthew McConaughey) travels there to take his own life, but a chance encounter soon disrupts his plans. On his path he meets Takumi, a bereaved and injured man, and decides to save him.

It's another huge role for Matthew McConaughey, whose career reached new heights in 2012. As a stripper in Magic Mike, an investigative journalist in Paperboy, and a fugitive in Mud, in just a few films he has successfully broken away from his image as a seducer and rom-com regular. At 42, McConaughey is now opting for more ambitious, more complex and more subtle roles that use his talent to the full. His big moment came last year when he received the Oscar for Best Actor for his role in Dallas Buyers Club. 

With this work by Gus Van Sant, he has set himself the challenge of entering into a film that is seemingly dark, but which also pays tribute to life, without claiming to have all the answers. "People can believe in whatever they want", adds Naomi Watts who plays Joan, Arthur's wife. "This film doesn't have a fixed message". This idea is not completely unlike the director's last selection at Cannes. It was in 2010 for the opening of Un Certain Regard with Restless, the story of two teenagers obsessed with the death that unites them, confronting their fate with love and humour.

Tarik Khaldi

SCREENINGS

Saturday 16 May / Grand Théâtre Lumière / 11.30 am - 9.00 pm
>> Go to the interactive agenda