For his first appearance in the Festival de Cannes Official Selection, director Stéphane Brizé presents his film La Loi du Marché (The Measure Of A Man) in Competition. Vincent Lindon and a supporting cast of non-professional actors convey a deeply intimate social drama.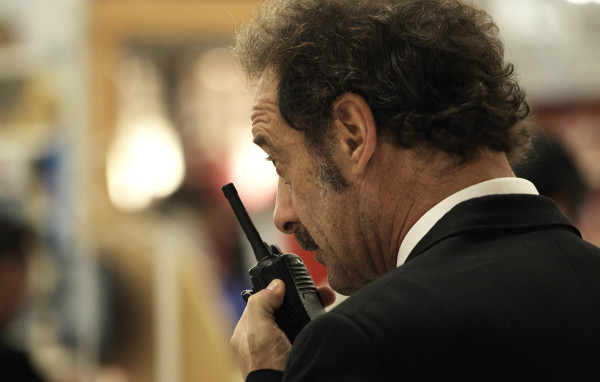 Film still © RR
Since his very first feature film, Le bleu des villes (Hometown Blue), moving on to Je ne suis pas là pour être aimé (Not Here To Be Loved), Mademoiselle Chambon and Quelques heures de printemps (A Few Hours of Spring), Stéphane Brizé's filmography has unfailingly described simple dramas and ordinary adventures with subtlety and a delicate touch. The director casts a probing, yet tender eye over workaday relationships and situations that are no less intense for being commonplace.
In La Loi du Marché (The Measure Of A Man), Thierry leaves the ranks of the long-term unemployed and accepts a job as a security guard in a supermarket to support his family. Very quickly, his new position forces him to confront unforeseen moral dilemmas.  Do the company rules that Thierry must respect provide any kind of ethical guarantee? Thus the film describes how the cogs of a rusty, damaged employment market can crush a conscience and place a man in an impossible situation.
To depict such social realism, Stéphane Brizé opted for naturalism. He called on Eric Duman, a director of photography with a background in documentary film, to find the best way of observing the issues faced by the character. The director also used non-professional actors, employed in the same jobs as they were in the film. This hyper-realistic casting provided an exceptional showcase for the performance given by Vincent Lindon, with whom the director collaborated for the third time.
Camille Périssé
SCREENINGS
Monday 18 May / Grand Théâtre Lumière / 8.30 am - 4.30 pm