For this 68th Festival, Guillaume Nicloux enters the Competition with a feature film that reunites the duo Isabelle Huppert and Gérard Depardieu, 41 years after Bertrand Blier's Going Places  and 35 years after Pandora's Box by Maurice Pialat. In Valley of Love, the Death Valley is the setting for a tragic story of grief.

"I want you to be there in the Death Valley on 12 November 2014. Both of you, yes you read it right, you and Dad. You might think it's a sick joke, but I promise you it's the truth." It all begins with a letter that Isabelle, played by Isabelle Huppert, and Gérard, in the form of Gérard Depardieu,  receive from their son, six months after his suicide. This posthumous rendezvous is orchestrated and chiselled with precision for these two grieving parents who, just like their on-screen actors, have not seen each other for years.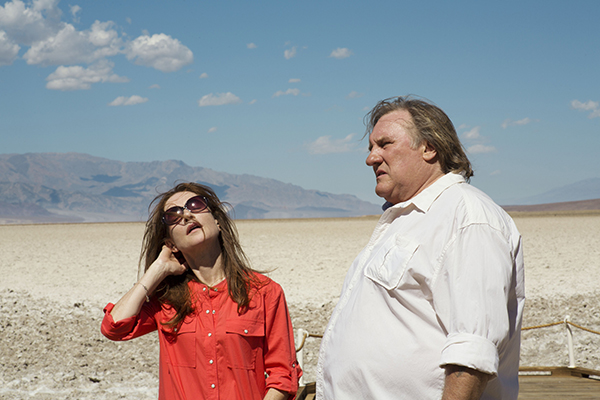 Film photo © RR
 
These meetings take place in the Death Valley in California – a predestined place. Ever since first discovering the desert in 2012, the French director remembered a free and solitary vastness. This is where Valley of Love would take place.  And the theme of grief, which "strays from life into film and from film into life" would be perfect in this setting.

It simply had to be Isabelle Huppert and Gérard Depardieu – there was no other choice for Guillaume Nicloux. Two years after La Religieuse, in 2013, the French actress placed her trust once again in this versatile director, novelist, and screenwriter of ten French films and four TV series.
Charlotte Pavard

 
SCREENINGS

Friday 22 May / Grand Théâtre Lumière / 3 pm
Saturday 23 May / Grand Théâtre Lumière / 10.30 pm