There is a real gem from Mali in the Feature Film Jury of the 68th edition of the Festival de Cannes. Rokia Traoré, musician and singer songwriter, provides a new outlook on the role of jury member. Interview with a committed artist.  
 
What film has bowled you over the most in the past few years?
Steve McQueen's Twelve Years a Slave really affected me, not because I can "relate to" the subject but simply as a human being. Films dealing with topics such as slavery, the Holocaust or colonisation always have a real impact on me. Especially if the film is well made, well edited and put together with realism and honesty. I am particularly affected when I feel that the film director has done his or her job well.

Culture in Africa means a lot to you. We can see people like Abderrahmane Sissako or Souleymane Cissé at Cannes. Do you think African cinema is picking up?
It's going to have to, because this continent is full of promises! Maybe I would have liked to see more African films in the Official Selection. Having said that, Souleymane Cissé is here with his film Oka (Our House) presented in the Special Screenings, and I'm happy about that. Abderrahmane Sissako also has another role in this year's Festival, so I can see that there are different ways of inviting actors of African culture to take part in Cannes, as this Festival is highly international. I believe that Africa should be encouraged, as it is home to very talented artists and filmmakers. Unfortunately, Africa is still extremely landlocked. Generally speaking, culture, and not just cinema, is barely visible. Admittedly, there are all kinds of artistic creation but very few places, like cinemas, to show them.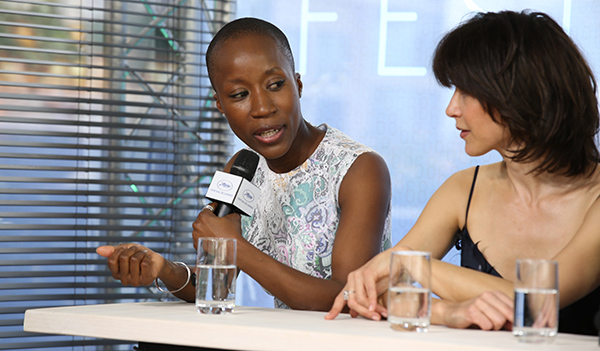 Rokia Traoré © FDC / M. Petit
 
You are surrounded by film directors, actors and actresses during this Festival. How does your way of analysing the films in the Official Selection differ to that of the other jury members?
I am surrounded by real cinema technicians, it's very enriching. I have a very global approach. My attention is naturally focussed on the music, as this is my line of work. I feel that music must support images and vice versa, they are complementary. I analyse the music played, composed or even the music used in a particular part of each film. I listen, whilst breaking down the scene according to the music. I could say that I trust myself for this part of the analysis. However, for the other aspects of the way in which a feature film is put together, I need to speak about them with the other jury members straight away, to tell them what I saw in order to have their opinions.  After each screening, I can't wait for them to tell me what they understood, out of curiosity, because I'm eager to learn. I'm sure of what I think and feel, but I need to question this during the Festival.

What do you concentrate on each time you watch a film?
I was talking about music, but sounds in a film are really important. Silence can leave room for acting. It can convey many things depending on how it is used: it can annoy, overwhelm, embarrass…

Is it difficult to form an opinion as soon as the film is over?
No, we must have one. We obviously don't deliberate straight away, but it's important to have an opinion so that we can remember each film, compare, remember and take a step back. Most of the time, the opinion I have of a film doesn't change, but rather gets stronger as the Festival goes by…
Whenever I attend a screening, I remind myself of the mission with which I've been entrusted for this edition of the Festival. I must remember how important the stakes are for the crews presenting all these films. Winning a prize can change the future of a feature film and its crew. This is why there needs to be a lot of us to talk about them, and to decide on the winner. I don't take my role as jury member lightly.

Is there a particular film director with whom you would like to work, to share your texts and compositions?
There are so many, everyone's different and I'd like to work with many people for lots of different reasons. I'm someone who likes to have a choice. I've already worked with Souleymane Cissé, it's a way of working based on the knowledge of his films that I started watching when I was a child. I've also just become acquainted with the Coen brothers, and love their humane approach. I like spending time with them, I love their way of talking to people. I'm a great admirer of their films, and this could make me want to work with them.
 

Interview directed by Hannah Benayoun