When a detective is assigned to investigate the murder of an entire family, his inquiries lead him to a company where an employee is a serial killer. In his first film as a director, Korean Won-Chan Hong, previously the screenwriter of The Chaser and The Murderer (both directed by Na Hong-jin), brings us a blood-curdling drama set in the working world of contemporary Korea.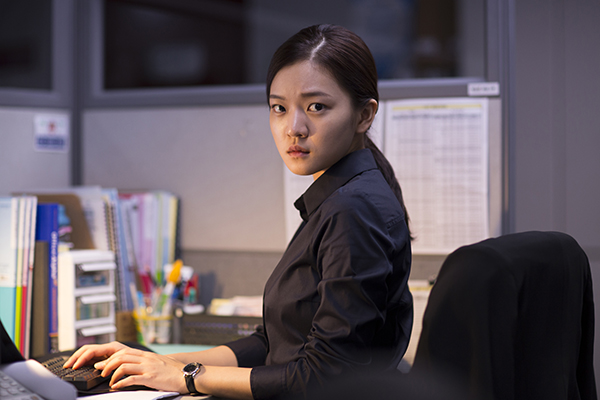 Film still © RR

What inspired you to make this film?
It all started with an original idea by the film's exectuvie producer and screenwriter, Choi Yun-jin, who presented me with a script based on her own experience of the corporate world. The story of O Piseu (Office) takes place in a constrained atmosphere and deals with people who are being driven crazy by stress. Unlike other thrillers, I think this film reflects the nature of contemporary Korean society through the medium of the crime genre.

What aspects did you focus on in terms of directing technique?
I delierately tried to restrict myself to the office space that serves as the bacdrop to the film. Since there are numerous constraints on positioning a camera in an office, and this can quickly lead to boring filming, I tried out several different kinds of shots so as to reduce the repetitive element, given that the maintenance of a film's rhythm is absolutely vital, even if often difficult to achieve.

What were your influences for making this film?
Korean society is currently experiencing a phenomenon whereby entire families commit suicide together. This is a serious social problem arising from the very structure of our society, in which working conditions and the degree of competition are particularly difficult. I was particularly attracted by the idea of making a film that could act as a social drama while following the conventions of the crime genre.

Before this first film as a director, you worked on The Chaser and The Murderer by Na Hong-jin. What did you learn from these experiences?
These two films occupy a special place in my career, since they enabled me to work as a screenwriter and to familiarise myself with the narrative structure of the thriller. They also taught me the importance of a passionate approach to film-making. As a director, Na Hong-jin works with an extremely high level of  concentration and perfectionism. For me he is a friend, a source of invaluable advice and a form of master.

Can you tell us a little more about your desire to make films?
I think that all directors or screenwriters need to learn in silence and to find their own channel of expression. The motivation always comes from our love of film. I I hope that I will never lose my detachment and objectivity, so that my love for the cinema will last for ever.

Interview conducted by Benoit Pavan

SCREENING

Monday 18 May / Grand Théâtre Lumière / 00:30 AM
>> Go to the interactive agenda