The Thai director Apitchapong Weerasethakul was first revealed in the Cinéfondation section at the Atelier du Festival. He won an award in the "Un Certain Regard" category in 2002 for Blissfully Yours, followed by the Prix du Jury for Tropical Malady in 2004 and subsequently the Palme d'or in 2010 for Uncle Boonmee Who Can Recall His Past Lives. He returns again this year in the Selection for Un Certain Regard with Cemetery of Splendour (Rak ti Khon Kae), the story of soldiers mysteriously affected by a sleeping disorder.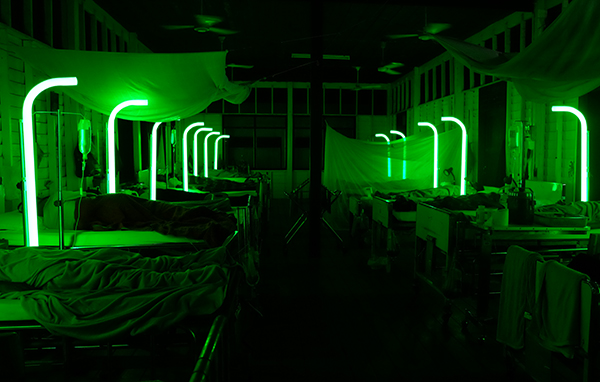 Film still © RR

How did you begin work on this film?
Over the past decade Thailand has got more chaotic, with much bloodshed. At one point I found myself sleeping more, maybe as a way to escape. I often jotted down my dreams. Making this film is also part of this activity related to sleeping, and the fear of waking up.

Please describe your working method and the atmosphere on set. Any anecdotes to share?
It's a home movie. I shot the film entirely in Khon Kaen, a town I grew up in, although I haven't lived there for 20 years. Most of the film's dialogues are in local dialect. I worked like it was my very first film. I tried to discard some of my own restrictions on my style of filming and to embrace the town's energy.

Please share a few words about your actors.
Apart from my usual leading actress Jenjira, (and Itt, who worked with me once on Tropical Malady 10 years ago), all of the actors are non-professionals. Jen and I are close friends, and have worked together on numerous projects including a book based on her writings. She inspired me to learn more about the history of  Isan (Northeast Thailand). I often visited her house near the Mekong River to talk about her memories and her search for a perfect husband. As it developed, this film became my dream, and hers too, and a little bit what I imagine could be my mother's dream also.

What are your views on the film industry in Thailand?
Thailand is a small country. So the filmmakers know each other. We respect each other's work, in different genres. My concern is about government censorship and self-censorship. The government only favours self-righteous and propaganda films. Now that the miliatary junta is holding the country hostage, some books and films are banned. Soldiers are sent to supervise theatrical productions. Recently even a screening of student films was prohibited. This climate of fear is not only killing the film industry but our souls.

What sources of artistic inspiration have you drawn upon in your work?
This is related to the previous question. I take my inspiration less and less from the 'auteurs' and filmmakers I adore, and increasingly from the everyday situation at home, and our everyday struggle for happiness and the right to dream.
 
SCREENINGS

Monday 18 May / Debussy Theatre / 2:00 PM-10.00 PM
>> Go to the interactive agenda