Like Vikramaditya Motwane, Neeraj Ghaywan forms part of a generation of film-makers that has made the reputation of an independent Indian cinema far removed from the clichés of Bollywood. Masaan, his first film, recounts a tale of impossible love between Deepak and Devi in the holy city of Benares.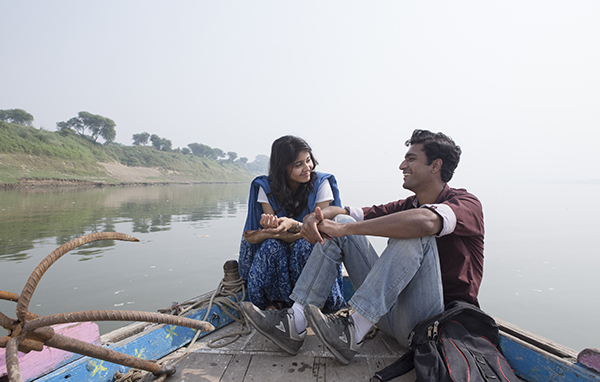 Film still © RR

How did you begin work on this film?
In the year 2010, a friend told me about the cremation ghaats in Benares, where dead bodies are burnt in accordance with Hindu culture. An idea for a short film occurred to me instantly. A young boy is an orphan on the burning ghaats of Benares who spends his time burning bodies. His banal life becomes exciting when he sees the priest's young daughter and falls in love with her. One day his boss gives him three bodies to burn, and one of them is that of the girl.

Please describe your working method and the atmosphere on set. Any anecdotes to share?
Since I started assisting Anurag Kashyap and became an admirer of Vikramaditya Motwane's work (they are also my producers), I have learnt of lot of skills and techniques from them. But what I have learnt most from them is that filmmaking is mostly about getting the right team on board. In this film, most of my crew is debuting too. I wanted people to be part of it because they are passionate about the story. When we went into production, I banned any hierarchical structures.

Please share a few words about your actors.
Richa Chadda (Devi) is an extremely intelligent actress. She is a happy fun person on set, and when you say "action", she completely turns herself into the character. Thanks to her emotional intelligence, Richa has captured the complexity of Devi perfectly.

Vicky Kaushal (Deepak) and I are very good friends, and that helped both of us to succeed in bringing out the deep side of the character together. Once we got to Benares, Vicky spent a lot of time with the locals and became one of them. He would spend days on the cremation ghat, observing the people work and the way they talked.

What are your views on the film industry in your country?
Our film industry is strongly dominated by money-making "song, dance and action" films. These films generate huge revenues. which in turn help fund smaller indie films. so the two need to co-exist. Over the years we have seen a change in audiences' tastes. This year has been a marked example of this shift, with many of the blockbuster films finding things difficult at the box office.

What sources of artistic inspiration have you drawn upon in your work?
I grew up watching the great movies of Satyajit Ray, Guru Dutt and Shyam Benegal. I couldn't appreciate them much but in my formative years they had a great impact on me. I admire Shekhar Kapur, Anurag Kashyap, Vikramaditya Motwane, Vishal Bharadwaj and Dibakar Banerjee. In terms of Western cinema, I draw inspiration from Bergman, Fellini, Haneke, Inarritu and the Dardenne brothers.

Can you tell us about your next project?
I am currently toying with an idea dealing with the abuse of freedom of expression in the modern world and the quest for identity.

SCREENINGS


Tuesday 19 May / Debussy Theatre / 4.30pm
Friday 22 May / Debussy Theatre / 11.00am
>> Go to interactive calendar