Nothing predestined Koji Wakamatsu to become a director. A former yakuza, he was introduced to the world of film when he was in charge of watching over film sets. His initiation as a director was in pinku eiga, a Japanese erotic and aesthetic cinema genre. In Japan, Koji Wakamatsu is known for having been one of the best directors of the genre. In recent years, his filmography has taken on a more political and historic connotation.
In 2009, the Japanese director revisited the bloody hostage taking of Asamo Sansou, led by fanatics of the United Red Army, in a film of the same name. This docu-fiction was intended to re-establish factual reality around events that had been somewhat distorted by imagination. Red United Army inspired Koji Wakamatsu to make his next film: Caterpillar (2010), the story of a Chinese lieutenant who comes back from war as a glorified figure but with his arms and legs amputated.
In
11.25 The day Mishima chose his own fate
, the director turned to the final years of Yukio Mishima. This great Japanese writer committed suicide on 25 November 1970, leaving behind very controversial writings.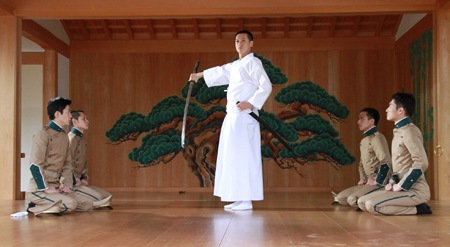 Photo from the film 11.25 The Day Mishima Chose His Own Fate
Un Certain Regard Q&A: Koji Wakamatsu on 11.25 The Day Mishima Chose His Own Fate
What does Un Certain Regard mean to you?
 It is an honor for me to be selected at "Un Certain Regard" since making film means how director express own "regard".

Why is cinema essential to you?
Film making is my essential weapon for expression.

Which type of cinema or which film continues to inspire you?
None

What question would you like to ask to any film director?
None

What are you expecting from the Festival de Cannes?
It is the great chance for me to show my expression to more people abroad.