" Glory to Ukraine! Glory to the heroes! " was the song of the Ukrainian people in December 2013. Ukraine went through political instability before the revolution in March 2014. Sergeï Loznitsa went to Maïdan, a square located in Kiev where the protest took place. This documentary shall be screened tonight as a Special Screening.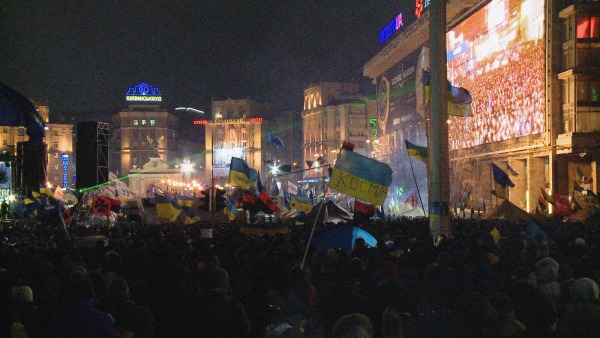 Photo from the film © RR
 

Maïdan is the central square in Kiev, the Ukrainian capital. As early as November 2013, citizens of all ages, from all social classes and all religions gathered here to protest against President Ianoukovitch's regime. He was forced to resign at the end of March.

Sergeï Loznitsa was born in Belorus and moved to Ukraine when he was young. The history of the Eastern European countries has always fascinated the film director. Maïdan was a different ball game to his other productions. Like many other people, he did not know what the outcome of the 90-day revolution would be. In contrast to news reports, Sergeï Loznitsa did not want to comment the images he filmed. He opted for patient but rigorous editing, with long shots so that the spectator can be as close as possible to what is going on, without adding any narration. Sergeï Loznitsa offers us a testimony to immediate History, captured on film: from the euphoria of the popular gathering to the first armed confrontation and the first drop of blood…

After successfully studying Science in Kiev, Sergeï Loznitsa joined the Institute of Cinematography in Moscow. A documentary enthusiast, he started producing feature films in the Saint Petersburg Documentary Film Studios. He has already presented two fiction films at Cannes: My Joy was in Competition in 2010 and In the Fog was also in Competition in 2012. Maïdan is Sergeï Loznitsa's return to documentaries, his favourite genre.

Hannah Benayoun



SCREENING

Wednesday May 21st / Bunuel Theatre / 7:15pm
>> View the interactive calendar