French director Michel Hazanavicius is making a come-back in Competition this year with The Search, a film on the second Russian-Chechen war and its effects on the civilian population. Once again, we find Bérénice Béjo, who won the Best Actress award in 2013 for The Past (Le Passé) by Asghar Farhadi.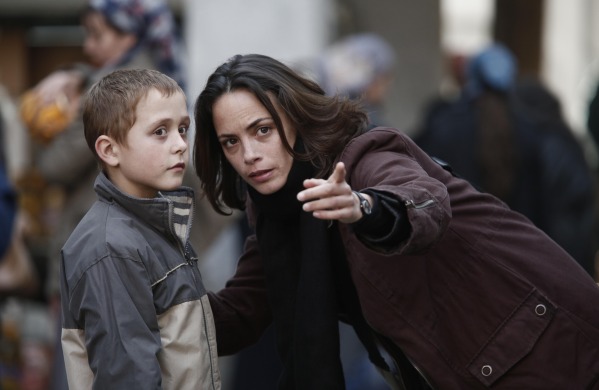 Still from the film © RR

The Search takes place in 1999, during the Second War in Chechnya. After the murder of his parents, a little boy escapes from his village, joining the tide of refugees. He meets Carole, the head of the mission for the European Union. With her, little by little, he comes back to life. At the same time, his big sister Raïssa is looking for him amongst the exodus of civilians. And Kolia, a twenty-year Russian youth who has signed up for the army, slips into the daily routines of war.

The Search was inspired by the film with the same title by Serge Zinneman, released in 1948, in which the story takes place in Germany during the Second World War. In that film, an American soldier takes in a Chechen child who has escaped from Auschwitz. The feature film was a success when it was released after the war, but then it was forgotten. Michel Hazanavicius decided to adapt this story to the context of the Second Chechen War by replacing in particular the character of the American soldier with Carole, an NGO worker, played by Bérénice Bejo. The filmmaker had the idea of creating a story on the Second Chechen War of 1999 to 2000 because this conflict was under-reported by the media. Ten years earlier, the director had already produced Raphaël Glucksman's documentary: Kill them all! Rwanda: history of a genocide (Tuez-les tous ! Rwanda : histoire d'un génocide sans importance), about the way people ignore certain conflicts.
 
Well known for his comic films in the OSS 117 series, Michel Hazanavicius made his mark on the 2011 Festival de Cannes withThe Artist, for which Jean Dujardin won the award for Best Actor. Thanks to this film about the downfall of a Hollywood icon, a silent film in black and white, the filmmaker has met with international success, carrying off a hundred awards including five Oscars. With The Search, Michel Hazanavicius shows us a more dramatic side of his artistic range.

Hannah Benayoun
 

SCREENINGS

Wednesday 21 May / Grand Théâtre Lumière / 8:30 a.m. – 7 p.m.
>> Go to the interactive calendar