The latest film by Danish director Kristian Levring will be shown Out of Competition at tonight's midnight screening. The Salvation features Mads Mikkelsen, winner of the Best Male Actor prize at Cannes in 2012 for his role in The Hunt by Thomas Vinterberg. Conceived in Scandinavia, this Western paints a fearsome portrait of vengeance against the backdrop of the wide open spaces of America.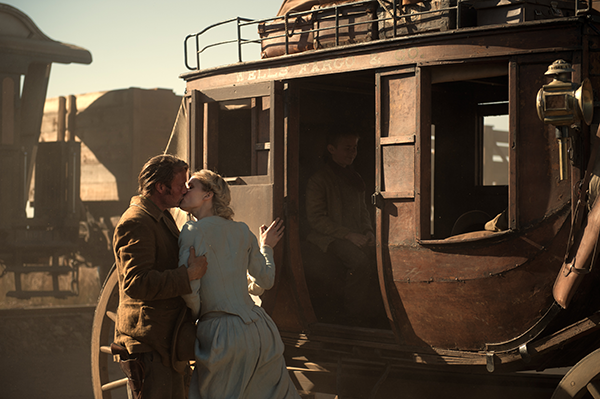 Photo © RR

America. 1870. Mads Mikkelsen plays John, a pioneer from Denmark whose family is brutally murdered. By slaying the killer, he provokes the anger of Delarue, a gang leader played by Jeffrey Dean Morgan…
Kristian Levring was the fourth signatory of Dogme 95, a charter drafted in Copenhagen by Thomas Vinterberg, Lars von Trier and Søren Kragh-Jacobsen. In 2000, The King is Alive, selected for Un Certain Regard, had closely followed the constraints of Dogme.
With The Salvation, Kristian Levring offers us a realistic, violent film – true to the historical context of the period, in which main actor Mads Mikkelsen once again applies his talents to a complex, taciturn and emotionally intense character. The Danish director's choice of genre is not insignificant – Westerns are based on the great Scandinavian tales, peopled with solitary heroes, which have provided material for Mads Mikkelsen on several occasions in his recent films. Viewers will remember that the actor was at Cannes in 2013 for Michael Kohlhaas  by Arnaud des Pallières. The cast of The Salvation Is also not without its surprises, such as the French actor Eric Cantona, who starred in Looking for Eric by Ken Loach at Cannes in 2009, and the actress  Eva Green, playing opposite Mads Mikkelsen once again eight years after they featured together in Casino Royale.
Hannah Benayoun
SCREENING

Saturday, 17 May / Grand Théâtre Lumière / Half past midnight