In 1956, Louis Malle and Jacques-Yves Cousteau scooped the Palme d'or for The Silent World. Two years later saw the release of Elevator to the Gallows, a detective film featuring Jeanne Moreau and Maurice Ronet. The music was by Miles Davis. Stéphane Lerouge, the mastermind behind the Ecoute le cinéma ! record collection, tells of this meeting at the summit…
How did Louis Malle and Miles Davis smeet up?
It was a magical encounter, as if ordained by fate: Louis Malle loved Miles Davis' albums, including Miles Ahead in 1957. He had the unique timbre of the trumpet ringing in his head while shooting Elevator to the Gallows. Just four months later, Davis was in Paris for a series of concerts at the Club Saint-Germain. Malle, who was putting the finishing touches to his editing, leapt on the occasion to see the Jazz great and asked him to write the music.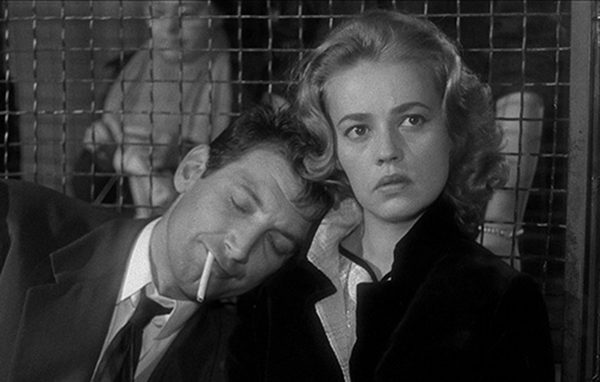 Photo from the film © DR

Was opting for an original jazz soundtrack a daring choice at the time?
Yes and no. A few months earlier in France, Roger Vadim's No Sun in Venice, had been composed by John Lewis and performed by the Modern Jazz Quartet. The real breakthrough was the "Davis sound" in this film about nocturnal wanderings, and the unusual marriage between the Davis sound and the grace of Jeanne Moreau, strolling through Paris in black and white. As if the trumpet was the character's inner voice.
What do you think makes the music so unique?
The fact that it wasn't written. Davis only watched the film once or twice and took a few notes, then brought his musicians together. Three days later at the Poste Parisien studio. The recording session began at 11 at night. They improvised looking at the screen, based on sequences selected by Louis. At eight in the morning, it was all in the can. It's a genuine milestone in film music history: Elevator to the Gallows was the first original jazz soundtrack to be improvised based on a film's images.
The 2K  restoration is presented by Gaumont. The image work was carried out by Eclair and the sound was restored by Diapason in partnership with Eclair.
Hannah Benayoun
SCREENING

Thursday 14 May/ Salle Buñuel / 4.30 pm