Iranian cinema is making way for a new generation of film-makers with Ida Panahandeh. After ten years of working for television, on short films and documentaries, the young director has signed her first feature film, Nahid, the story of a single mother who has to fight against the preconceived ideas of society, so that she can love in the open.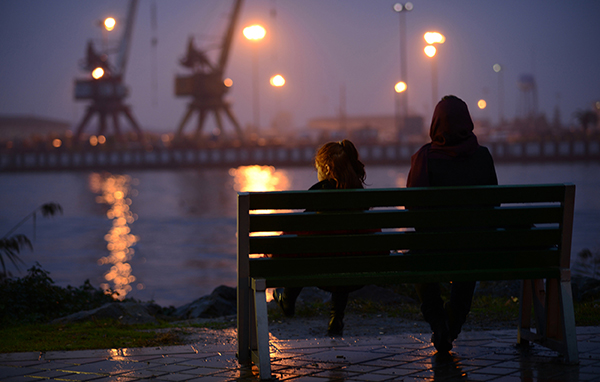 Film still © Habib Majidi

How did you begin work on this film?
For years, whenever my co-screenwriter, Arsalan Amiri, and I started to write a screenplay, a young woman would pop into our minds with her unruly, undisciplined son, and would try to force us to include her in our stories. The story would never turn out as we wished, so we would let go of it. Finally, we came up with a story about her. Both of us had been brought up without the presence of our fathers. We witnessed our mothers' struggles to prove themselves as independent women in traditional Iranian society.

Can you tell us how you work? Do you have a story about when you were on set?
As soon as I started writing the screenplay, I knew that the best season for my story was autumn, as the cloudy, grey ambience of the city would well reflect the innermost being of my heroine and that of other characters, and add to the film's visual enrichment. I had to be careful of the colours of the characters' dresses,  and use cool or neutral ones to emphasise the effect of the colour red as a symbolic element.

Please tell us a few words about your actors.
Sareh Bayat (Nahid) is a brilliant actress who is remembered for the role she played in the film A Separation by Asghar Farhadi. I did not want Sareh to be associated with the oppressed woman in A Separation. I kept saying, "You should be a she-wolf Sareh! Go for it!". Sareh is a sensitive actress who can convey different emotions without even saying a word.

Pejman Bazeghi (Masoud) is a mature and experienced actor. While filming, I felt envious of his intelligence and ingenuity. He understood my suggestions and ideas quickly, and would apply them right away. The emotional connection he had with the other actors and actresses was good.

What are your views on the film industry in your country?
Among Middle Eastern countries, Iran is the only one to export its cinema worldwide. Kiarostami, Farhadi, Banietemad and many others have played a great role in extending the borders of our culture. We are not able to make films as easily as Europeans or Americans do, because we do not have the same budgets. Our hands are tied, preventing us from acting out our dreams.

What sources of artistic inspiration have you drawn upon in your work?
In all the films I have made, the biggest source of artistic inspiration for me has been life itself. There is also another thing without which my life would be meaningless: literature. I have watched films by Tarkovsky, Bergman, Kiarostami, Ayyari, Ozu, Mizoguchi, Kurosawa, Billy Wilder, Jane Campion, Kubrick and Coppola many times.

Can you tell us about your next project?
The screenplay I am working on is about love, two women from two different generations, one of whom should give in for the benefit of the other. It is more of a psychological film, rather than a social one.

SCREENINGS


Saturday 16 May / Debussy Theatre / 11am - 4pm

>> View the interactive calendar