Five years after Tuesday, After Christmas (Marti, dupa craciun), a stylised, intimate drama on the theme of the couple and adultery, the Romanian film-maker Radu Muntean has returned to compete in Un Certain Regard with the story of a man who witnesses his neighbour commit a crime and finds himself face to face with a profound dilemma: whether to reveal everything to the police or keep quiet.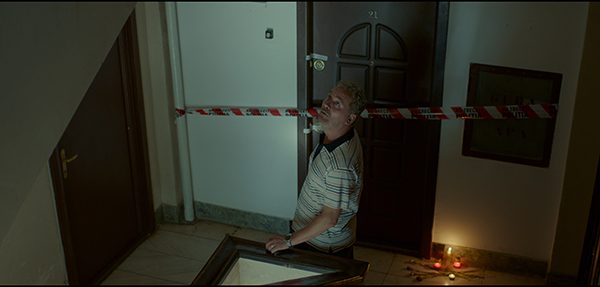 Film Still © RR
Could you explain how One Floor Below came about?
I recycled an old idea of mine, about a murder witness who keeps the information to himself. I started to write a script, together with my long-time co-writers Razvan Radulescu and Alex Baciu. The writing went smoothly, financing of the project rather less so. We finished the script in two months and started shooting more than two years later.
Could you describe your working methods and the atmosphere on set?
I've been working with the same crew, more or less, for about ten years now, so we know each other very well. Most of the time we do commercials, but all the crew members are aware that making a movie is something else. They're focused and dedicated throughout. There are probably plenty of anecdotes that could be told about the filming, but I was too tense to notice what was going on. After all, we only had 25 days on set.

Please share a few words about your actors...
Teo Corban and Lulian Postelnicu are two of the best actors I've worked with. I think they managed to create a special connection between each other, which is what gets the tension of the movie across. I'd like to work with them again.
What do you think about your country's film industry?
I don't think we have a real film industry in Romania, but, as in most European countries, we have state-funded cinema. A national fund finances our movies through an annual, or sometimes biannual contest. We launch the project on coproduction markets and try to close the finance gap with the help of other state-financed industries.

What sources of artistic inspiration have you drawn upon in your work?
I discovered, during the making of this project, the work of Maurice Pialat and Lucrecia Martel. They both inspired me, in very different ways.

Can you tell us about your next project?
I've started work on a new script, again with Alex and Razvan. It's for a film about parenthood, but we're at the very start of the writing process.
SCREENINGS

Thursday 14 May / Salle Debussy / 2.30 pm - 11.00 pm
>> Go to interactive agenda