Twelve graphic artists, twelve cartoonists: this is the international team brought together to transmit a united message in support of democracy, selected from over a hundred artists by Plantu and Radu Milaileanu. They appear in this documentary shown as a Special Screening, just one year after the Cartooning for Peace exhibition and auction held during the last Festival de Cannes. Without ever losing their sense of humour, their most powerful weapon, these skilled wielders of the pencil remain fully aware of just how important is the impact that their message can have.
The project is the fruit of the shared convictions held by Plantu, cartoonist at Le Monde newspaper for the last 40 years, and the filmmaker and producer Radu Mihaileanu. The two friends commissioned twelve graphic artists, whom they considered to be representative illustrators of a range of the world's current problems, whether they be political or military dictatorships, economic pressures, mafia problems or religious questions. Cartoonists are like "footsoldiers" constantly fighting on the front line, explains Stéphanie Valloatto, the film's director, who adds: "Cartoon humour is a powerful weapon that unsettles the powers that be and can challenge their authority." Selected from over a hundred graphic artists, the cartoonists participating in the documentary also pass on to today's young people the clear message that they must be ready to have the courage to express their own opinions.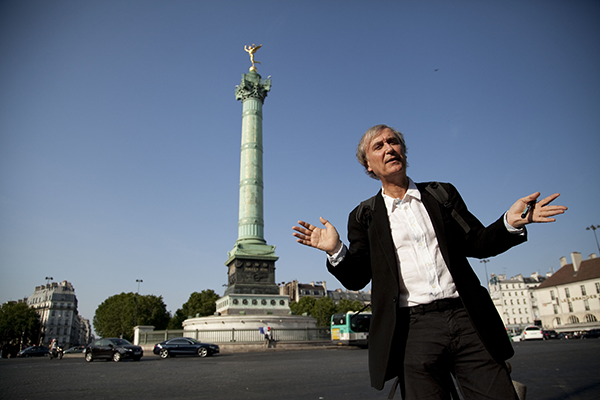 Plantu © RR
Every day, cartoonists take risks that can lead to their death. "Their lives can be put in danger, particularly in autocratic regimes. On a more general level, freedom of expression is threatened today in all countries, including in our so-called "democratic" societies. The documentary underlines this reality by showing these illustrators of current events in their own countries, with all the risks involved in the shooting of each report both for the film-crew and for the cartoonists themselves.
France, Tunisia, Russia, Mexico, the United States, Burkina Faso, China, Ivory Coast, Venezuela, Israel and Palestine are all represented through the pencil of the twelve cartoonists conscripted for this special operation..
Charlotte Pavard
SCREENING

Monday 19th May / The Soixantième Theatre / 7.15pm
>> Access the interactive agenda