In Alias Maria, the Colombian director tells the story of María,  a young guerilla in the grip of problems  that no young person should have to face. A vision of the terrible reality of the armed conflict in Colombia.
How did you begin to work on this film?
This project started in 2010. Diego Vivanco, the screenwriter of my first film, García, showed me a draft of the story and I loved it. We immediately embarked on research that took about 3 years. We interviewed plenty of ex-guerrillas and realised that our story was the story of lots of Colombian girls. From this moment on, the story became such a part of us that throughout that time we journeyed deeper and deeper into a very intimate drama.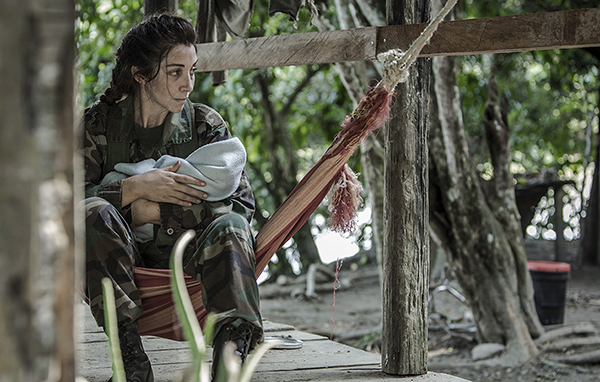 Alias Maria © RR
Tell us about your working method and the atmosphere on set. Any anecdotes to share?
The children who acted in the film were selected after an extensive casting carried out in a zone with high levels of violence, so all these kids had something in their nature that I had to be careful to preserve when they mixed with the real actors. For me it was important that they could understand and feel their character and not learn it by memory. So I never gave them the script. We rehearsed almost all the film this way, telling them the scenes so that after each rehearsal they could write it in their own more realistic way. So in fact each one of them re-wrote their own script.
In the middle of the jungle, you're surrounded by beautiful scenery but at the same time it's hostile and pretty uncomfortable. We had to walk for an hour and a half each day to get to the set, and it certainly wasn't easy to carry food and drink for the whole team. During the 5 weeks we took every kind of transport possible, from canoes, horses, tractors and motorcycles to 'chiva' buses. As a result the entire team was in 'guerrilla mode', we were like troops on war manoeuvres, walking from one point to another and dealing with  all the road difficulties. We made the most of this for the realism we were seeking.
There were lots of anecdotes, but I'll tell you the saddest one because , it gave us a hard dose of the very reality we were trying to portray When we finished the shoot, Anderson, one of our main actors was detained by the national army who wanted to recruit him for compulsory military service,  irrespective of the fact that he's a kid, a student about to finish his high-school studies.
Tell us a little about your actors
Karen, the main character, is a very talented girl whose strength is in her eyes. It was a real pleasure working with such a sensitive girl, always ready to listen. She's an actress who is ready for any role .Anderson on the other hand hides a silent force that conveys both his feelings and power. The beauty of his face makes him powerful on screen. Erick is a boundlessly intelligent little kid, a restless kid who conveys a sense of tenderness and vulnerability. Each time I see him it affects me deeply. Carlos is a great friend and actor. For me he was a great discovery. With his generosity spirit he opened up to the rest of the kids, he achieved the tone of a non-professional actor. He was a fundamental role as he served as a guide and counsellor for the kids.
What sources of artistic inspiration did you draw on in your work?
I have always been deeply interested in human experience. At first it was through still photography, with portraits of people who were full of stories and life experience. I fell in love with those stories and started thinking about how I could tell them in another format, one that allowed me to penetrate more deeply inside them, from very intimate angles.
What are your views on the film industry in Colombia?
I think we are an adolescent industry, still young, but one that in recent years has been consolidating as an industry. This is also because of new laws in Colombia that encourage filmmaking, and the narrative concern of new generations that have contributed so much to our cinematographic identity.
Can you tell us about your next project?
It's about the untold story of the greatest Colombian singer ever, an African God who sold millions of records and that thanks to the worship of his followers, rose to a superior state of consciousness. It's the story of a genius who undergoes a deep drama. His life is a mixture of frenzy, drugs, dislikes and physical
illnesses.
SCREENINGS
Tuesday 19th May / Debussy Theatre / 11:00 am
Friday 22th May / Debussy Theatre / 2:00pm
>> Go to the interactive calendar