Processing of the Festival de Cannes archives
The Festival de Cannes has entrusted its archive holdings to the "Cinémathèque Française" which is in charge of its conservation, treatment and public distribution.
From today, one can have access to the following years (please see cineressources.net for more details).
1938 to 1975 for the administrative holdings connected with the organisation of the Festival (1,299 archive files).
1949 to 1977 for the press holdings (1238 archive files).
1946 to 1987 for the films department (251 archive files) as follows:

General Documentation (1946-1987): 40 files
Programmation (1951-1960): 211 files
A complete list of these files may be consulted online at cineressources.net
A selection of these files are accessible at cinematheque.fr
***
Main works dedicated to the Festival de Cannes
Books and Films
Books
Cannes, première ! by Thierry Frémaux, Le Faune Editions, Paris, 2018
Dictionnaire amoureux du festival de Cannes by Gilles Jacob, Plon, Paris, 2018
Cannes Memories, 70 Festivals de Cannes, Collective book, Preface by Monica Bellucci, Entertainment Media, 2017
Ces années-là, Le livre Anniversaire, Stock, Paris, 2017
La grande histoire du Festival de Cannes by Frédéric Vidal, Editions de l'Archipel, Coll. Beaux-Livres, Paris, 2017
Cannes Film Festival by Philippe Dupuy and Jean-François Roubaud, Gilletta Editions, Nice, 2017
Sélection officielle, Journal by Thierry Frémaux, Grasset, Paris, 2017
Cannes 1939 Le Festival qui n'a pas eu lieu by Olivier Loubes, Armand Colin, Paris, 2016
Les pas perdus by Gilles Jacob, Flammarion, Paris, 2013
Le livre d'or du 65e Festival de Cannes 2012- 1939, Frédéric Vidal, Thierry Frémaux Didier Carpentier, Didier Carpentier Editions, 2012
Citizen Cannes. The man behind the scenes at the Cannes cinema festival by Gilles Jacob, Phaidon editions, 2012.
Dans les coulisses de Cannes, supervised by Guillaume Clavières and Marc Brincourt, Texts written by Jean-Pierre Bouyxou, Preface by Brigitte Bardot, Glénat Editions, 2010.
Vu(es) sur Cannes by Jackie Berroyer, Vu Editions (partnership with Arte), Paris, 2010.
Livre d'or by Gilles Jacob, Seuil Editions, Coll. Beaux livres, Paris, 2010.
La vie passera comme un rêve by Gilles Jacob, Robert Laffont Editions, Paris, 5th March 2009.
Le Festival de Cannes by Frédéric Mitterrand, Robert Laffont Editions, Paris, 2007.
Festival de Cannes 60ème anniversaire, les musiques originales les plus marquantes des films primés, 2 CD, 46 titles, produced by Naïve, E.U., 2007.
100 photos de Cannes, pour la liberté de la presse, collective book, Reporter Sans Frontières, Paris, 2007.
Le Festival de Cannes by Emmanuel Scorcelletti, Michel Lafon, Coll. Beaux livres, Paris, 2007.
Leçons de cinéma du Festival de Cannes, Collective book, Panama editions, Dijon, 2007.
Le Festival de Cannes sur la scène internationale by Loredana Latil, Nouveau Monde éditions, Paris, 2005.
Cannes : premières années du Festival [Photography book] by Yves Manciet, Thoba's éd., Roanne, 2004
La Légende de Cannes de A à Z by Henry-Jean Servat, Assouline, Paris, 2004
Cannes : cris et chuchotements by Michel Pascal, NIL, Paris, 1997.
Cinquante ans du Festival de Cannes by Daniel Toscan du Plantier, Ramsay, Paris, 1997.
Les Visiteurs de Cannes : cinéastes à l'œuvre, directed by Gilles Jacob, Hatier, Paris 1992.
Les Années Cannes, by J.M.G. Le Clézio and Robert Chazal, Hatier, Paris, 1987.
Les Rendez-vous de Cannes, novel by Michel Lebrun, éditions Jean-Claude Lattès, Paris, 1986.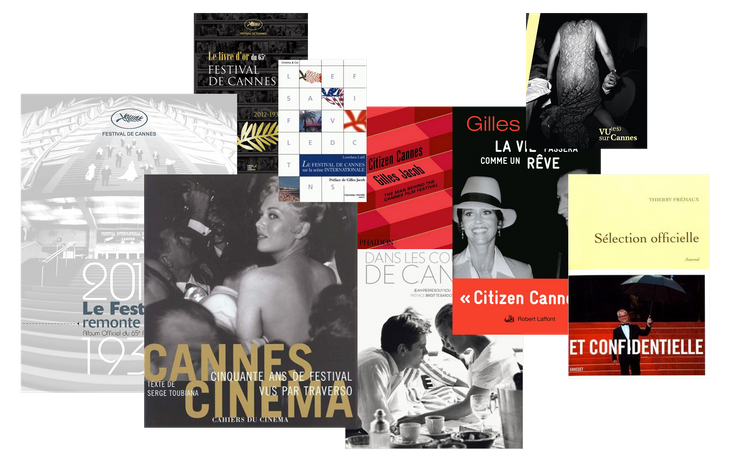 Works dedicated to the Festival de Cannes © RR
Exploitation of photos and videos
Photos
All the principal national and international photographic agencies cover the event. The Festival, only having a droit moral over these photos, kindly contact them directly.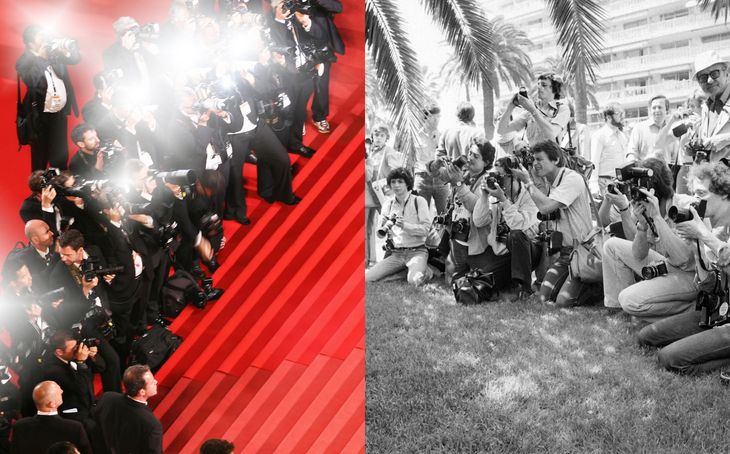 Photographers during the Festival de Cannes in 2010 and 1979 © Karl Walter / AFP - Ralph Gatti / AFP
Vidéos
For commercialised audiovisual archives, please contact the following companies, according to the years you are interested in:
Actualités Cinématographiques Françaises for footage between 1946 and 1970
Sygma TV for 1983 to 1989
Contact: Gaumont / Pathé Archives Sales Department
Tel : 33 (0) 1 49 48 15 15
French news footage for 1952 to 1998 (All the archives of François Chalais.)
Contact: INA Sales Department
33 (0) 1 44 23 12 51
Festival de Cannes news footage for 1990 to 1999
Contact: Capa Télévision Sales Department
33 (0) 1 40 45 47 00
Festival de Cannes Television for 1994 to 2000
Contact: Festival de Cannes Audiovisual Department
33 (0) 1 53 59 61 62
delphine.beillard@canal-plus.com
Festival de Cannes Television for 2001 to 2014
Opening and Closing Ceremonies for 1993 to 2014
Canal + (from July to January)
Muriel SADOUN: muriel.sadoun@canal-plus.com /+33 (0) 1 71 35 28 29
Delphine BEILLARD: delphine.beillard@canal-plus.com /+33 (0) 1 71 35 25 15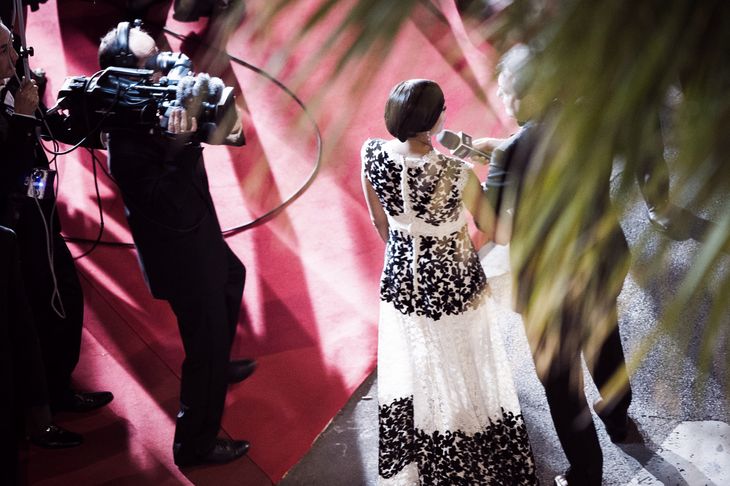 Interview at the bottom of the red steps © François Durand / GettyImages