It was in Cannes that Roman Polanski discovered Venus In Furs. Last year, while he was presenting a restored print of Tess in Cannes Classics, his agent suggested he should read Leopold von Sacher-Masoch's celebrated novel. A year later, the director who won the Palme d'Or for The Pianist (2002) is back to present his new movie version of the work In Competition.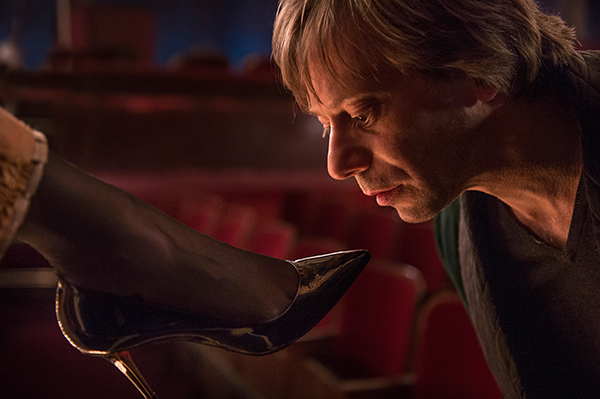 Photo from the film RR

"The text was so funny it had me laughing out loud all on my own, which doesn't happen every day." The irony, sensuality and feminism of Venus in Furs scored a bullseye: Roman Polanski had his next film. Right away he saw a role tailor-made for his wife Emmanuelle Seignier, which would enable them to team up again on screen fourteen years after The Ninth Gate.

This time she plays the role of Vanda, a capricious and vulgar actress who completely unsettles Thomas (Mathieu Amalric), a rather desperate theatre director. Vanda presents herself after a long day of fruitless auditions. She represents everything that Thomas hates but she is exactly what he needs for his role. The two theatrical characters soon find themselves entwined by bonds of fascination and manipulation, domination and submission.

This is not the first time that Roman Polanski has taken his inspiration from the theatre. Under his direction, the dialogues of Yasmina Reza's God of Carnage became Carnage, a verbal jousting match that pitted Jodie Foster, Kate Winslet and Christoph Waltz against one another.

For his Venus in Fur, Roman Polanski has made some modifications. He took up the challenge of having his two characters develop in a single location, a unity of place, while taking care "never to bore the spectator". What was an audition room in the Sacher-Masoch novel becomes a theatrical stage, thus multiplying the possibilities for movement and situation while giving the film with a muted and intimate atmosphere.

Tarik Khaldi

SCREENINGS
Saturday 2 May / Grand Théâtre Lumière / 8.30am - 7.00pm
>> Access the interactive agenda