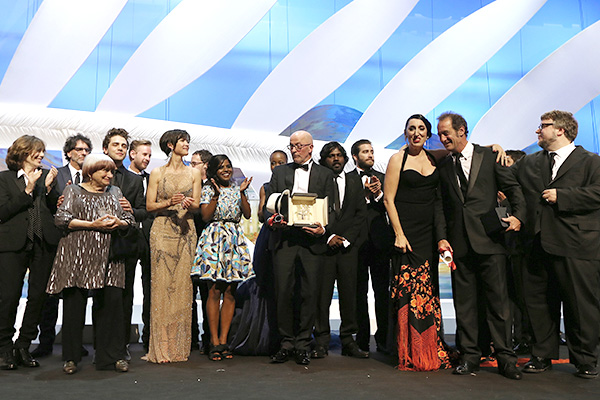 The Jury & the Winners © AFP / V. Hache
The Jury of the 68th Festival de Cannes, presided by Joel and Ethan Coen, has revealed the names of the 2015 prize-winners during the Awards Ceremony. After paying tribute to Jean Zay, a resistance hero and founder of the Festival, Lambert Wilson welcomed the prize-givers and winners onto the stage of the Grand Théâtre Lumière, to the sound of music playing. The Belgian actress, Cécile de France, had the honour of awarding the Palme d'or to the best of the 19 films in Competition.

The director and French artist, Agnès Varda, received an Honorary Palme d'or for her collected works from Jane Birkin.

The closing film La Glace et le Ciel (Ice and the Sky) by Luc Jacquet was screened at the end of the Ceremony.

 
FEATURE FILMS - COMPETITION

Palme d'or
 

Grand Prix
 
SAUL FIA (Son of Saul) by László NEMES

Best Director Award
HOU Hsiao-Hsien for NIE YINNIANG (The Assassin)

Jury Prize
 
THE LOBSTER by Yorgos LANTHIMOS
 

Best Actress Award
 
Rooney MARA in CAROL by Todd HAYNES

Emmanuelle BERCOT in MON ROI by MAÏWENN
 

Best Actor Award
 
Vincent LINDON in LA LOI DU MARCHÉ (The Measure of a Man) by Stéphane BRIZÉ
Best Screenplay Award

Michel FRANCO for CHRONIC
SHORT FILMS - COMPETITION

Palme d'or       


UN CERTAIN REGARD

UN CERTAIN REGARD AWARD


HRÚTAR (Rams) by Grímur Hákonarson

JURY PRIZE

ZVIZDAN (The High Sun) by Dalibor Matanić
BEST DIRECTOR PRIZE

Kiyoshi Kurosawa for KISHIBE NO TABI (Journey to the Shore)

UN CERTAIN TALENT PRIZE

COMOARA (Treasure) by Corneliu Porumboiu

Joint PROMISING FUTURE PRIZE

MASAAN (Fly Away Solo) by Neeraj Ghaywan

CAMÉRA D'OR

LA TIERRA Y LA SOMBRA (Land and Shade) by César Augusto ACEVEDO presented during La Semaine de la Critique
 

CINÉFONDATION
 
First Prize
SHARE by Pippa Bianco
AFI's Directing Workshop for Women, USA

Second Prize
LOCAS PERDIDAS (Lost Queens) by Ignacio Juricic Merillán
Carrera de Cine y TV Universidad de Chile, Chile

Joint Third Prize
THE RETURN OF ERKIN by Maria Guskova
High Courses for Scriptwriters and Film Directors, Russia

Joint Third Prize
VICTOR XX by Ian Garrido López
ESCAC, Spain

The Jury of the CST has awarded the VULCAN AWARD OF THE TECHNICAL ARTIST to:


Tamas ZANYI, sound engineer, for the outstanding contribution of sound to the narration of SAUL FIA (Son of Saul) by László NEMES.