A graduate of Prague Film School and a Cinéfondation contender in 2005 with Slavek The Shit, Grímur Hákonarson gives us his second feature film. Hrútar (Rams), set in a remote region of Iceland, tells how two brothers at loggerheads for forty years are reunited. Both livestock farmers, they come together to tackle the task of saving their animals.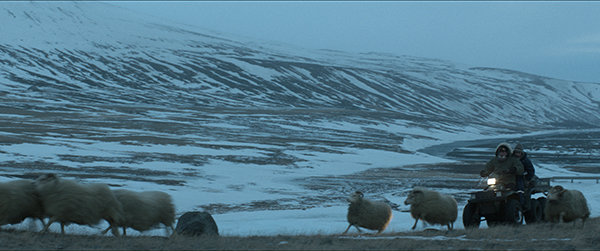 Film still © RR
How did you begin to work on this film?
The original screenplay for Rams was written by me, based on my knowledge of rural people and rural culture in general. Both my parents were raised in the countryside and I was sent there to live and work most summers up to the age of 17. I think I have a good sense of the stories, characters and visual language of these rural parts of Iceland.
Did it take a long time to make Rams?
I worked on the script for about 3 years. It changed and evolved a lot during that period. I did a lot of research. I travelled around Iceland, spoke to many farmers and visited a lot of sheep sheds. I read many books about sheep farming to get a deeper understanding. I put most effort into preparing the two main actors. There are certain archetypes that feed into the characters of Gummi and Kiddi and it was important that the actors meet the people in question. They also needed to get deeply familiar with sheep farming through academic research and personal experience.

Please describe your working methods and the atmosphere on set. Any anecdotes to share?
It is my role as a director to create a good atmosphere on the set. This includes ensuring that we're all working towards the same goal and that everybody is feeling positive about the shoot. I choose colleagues who believe in the project and are ready to give everything they have. It's essential for me that people get to know each other a little before the actual filming starts so that the relationship between director, actors and other key players will not only be professional but also functions on a personal level. We had a "sheep rehearsal period" for several days, where we only rehearsed scenes with sheep. We shampooed the ram and everything. Sigurður Sigurjonsson worked on a farm when he was a teenager, so he was already familiar with farming life. Theodór Júlíussn also had some experience, but both of them have been living in the city most of their adult lives, and they did need a little training. Casting the sheep was also quite an adventure that required some preparation and foresight. Some of my fondest memories of the film, from the pre-production period, were the auditions we held for the sheep.

Please share a few words about your actors.
Both Sigurður and Theodór were my first-choice actors for the roles and fortunately they loved the script. They are consummate professionals, fearless and extremely giving actors who are in my opinion getting better with age. It was pure joy working with them and they made my job so much easier by performing every scene to perfection.

What are your views on the film industry in your country ?
The industry here is small and many would see this as a negative thing, but I'd like to think that our small community is what makes it so special. Everyone knows everyone, and if you look at the credit list of Rams or any Icelandic release then you see most of the industry in the special thanks section. We brainstorm stories, read over each other's scripts, watch the rough cuts and cheer when the movies are successful abroad. This is much more like a family with shared interests than people competing against each other.

What sources of artistic inspiration have you drawn upon in your work?
Rams could in some sense be considered a very Scandinavian film, being a cocktail of drama and black humour. I think it could be compared with certain recent Nordic films, Bent Hamer's Kitchen Stories and Noi Albinoi by Dagur Kári. But Rams is more realistic than those films and maybe I was also a little bit influenced by the so-called Romanian new wave. I was also inspired by the novel Independent People by Halldor Laxness, written in 1935. Although written in different time period, the book has similar themes to Rams.
SCREENINGS

Friday 15 May / Debussy Theatre / 11 am - 2 pm