Press Conference
19.05.22 . 1:00 PM
|
Update :
20.05.22 . 11:44 AM
Meeting the team of Kirill Serebrennikov's Zhena Chaikovskogo (Tchaïkovsky's Wife)
Press Conference
19.05.22
.
12:32 PM
Press Conference of ZHENA CHAIKOVSKOGO (TCHAÏKOVSKY'S WIFE) by Kirill SEREBRENNIKOV
His presence at Cannes was highly expected. The dissident Russian filmmaker, Kirill Serebrennikov, met with journalists for a press conference for Zhena Chaikovskogo (Tchaïkovski's Wife). For his previous films In Competition, Leto in 2018 and Petrov's Flu last year, he was forced to hold these meetings via video conference. Freed from house arrest, he came along with the actress Alyona Mikhailova, the actor Odin Biron the producer Ilya Stewart.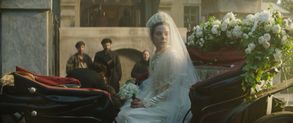 In Competition - Feature Films
RUSSIA, FRANCE, SWITZERLAND - 2022
02:23
Focus
Competition
18.05.22
.
06:00 AM
Photocall
19.05.22
.
12:06 PM
The same day
Un Certain Regard
19.05.22
.
08:35 AM
Cannes Classics
19.05.22
.
08:25 AM
Tribute
19.05.22
.
10:30 AM