THE FESTIVAL DE CANNES IS TAKING ACTION TO PROTECT THE PLANET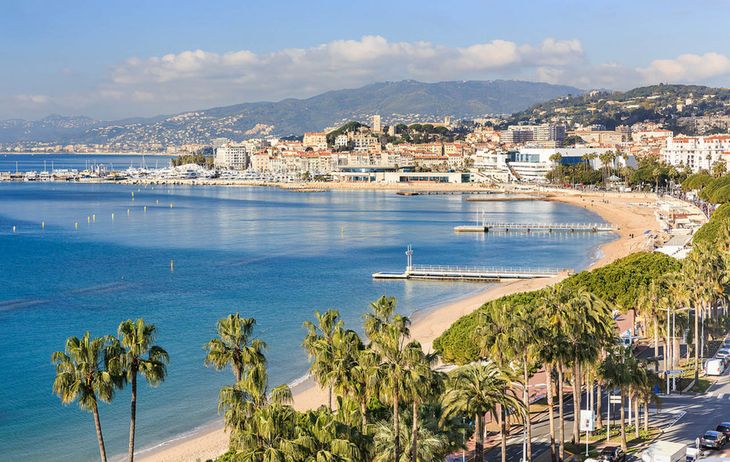 The Festival de Cannes is taking action to protect the planet © Cannes Palais des Festivals-Photo: Hervé Fabre
In order to draw the event and its structure into a proactive environmental process that is both realistic and sustainable, the Festival de Cannes is implementing a strategy underpinned by two priority issues: CO2 emissions and waste management.

These two pillars were identified as being absolute priorities, and will be tackled simultaneously through a two-pronged approach:

► REDUCING (carbon emissions and waste), and
► TAKING ACTION on aspects that cannot be cut back, such as offsetting carbon emissions and recovering residual resources.

The idea is to completely overhaul the way in which the Festival de Cannes takes place. Naturally, this is a long-term policy, but the first high-impact measures were implemented starting in the 2021 edition.
MORE INFO ► OFFICIAL PARTNERS' INITIATIVES
REDUCING: areas of action





Transport
Since 2022, 100% of the official car fleet is comprised of electric and hybrid vehicles.

Just like the accredited visitors, the vast majority of whom get around on foot thanks to how close-by the Festival's many spaces are, the artistic teams that travelled to Cannes to showcase their films were also encouraged to walk wherever possible.

All participants enjoyed free access to the City of Cannes' public transport network thanks to their own dedicated pass, available online in their "MyCannes" space. In 2021, 33,000 journeys were taken during the Festival.
Printing
Between 2019 and 2021, the Festival slashed its usual volumes of printed materials by 79% (already Imprim'Vert PEFC-certified) by continuing efforts to digitalise publications and tickets and cut back on print runs.

Film promotional materials for the press are now fully digitalised, too.
The red carpet
The red carpet replacement rate was halved, thereby saving 1,400 kilos of material – a mere 59% of the traditional volume of carpet used.

The volume of carpet used in the Village International areas was also reduced by 24%.
Food and drink
The Festival's caterers complied with an 'eco-responsible' set of specifications, including commitments to prioritise fresh, seasonal produce and short circuits, to offer vegetarian options, to tackle food wastage, and to reduce waste.
Single-use plastic
Plastic water bottles (over 22,000 units in 2019) were completely eliminated. Alongside this, water fountains were set up across the Festival's various spaces.
Goodies
The origin of Festival merchandise and products from the official boutique was reassessed with a view to systematically looking into alternatives sourced from France and Europe. French and European items are now prioritised for each new product added to the collection. In 2021, French-made goodies already accounted for 40% of all sales.
RECYCLING: solutions under consideration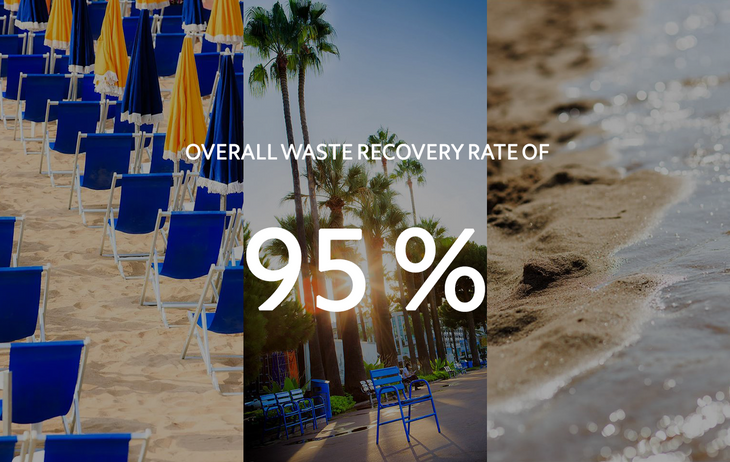 The Festival is taking action: upcycling © Cannes Palais des Festivals-Photo: Hervé Fabre
In 2021, recycling was set up across the Palais des Festivals spaces to allow accredited visitors to better recycle waste at source. Thanks to this measure, the waste recycling rate rose by 31% between 2019 and 2021. Furthermore, thanks to the environmentally-friendly policies implemented by the Palais des Festivals, the City of Cannes, and the Festival's teams, a waste recovery rate of 99% was maintained, while the percentage of materials recovered increased from 80% to 83% between 2019 and 2021.
Upcycling
Fully recyclable and recycled for a number of years now, in 2021 teams experimented with upcycling the red carpet. A total of 2,600 kilos of carpet were collected by an association specialising in a circular economy approach to growing and upcycling materials.

To date, 800 kilos of carpet have been reinjected back into the PACA region's growing and manufacturing chain, with this material being reused by the association's members.
OFFSETTING: allocated means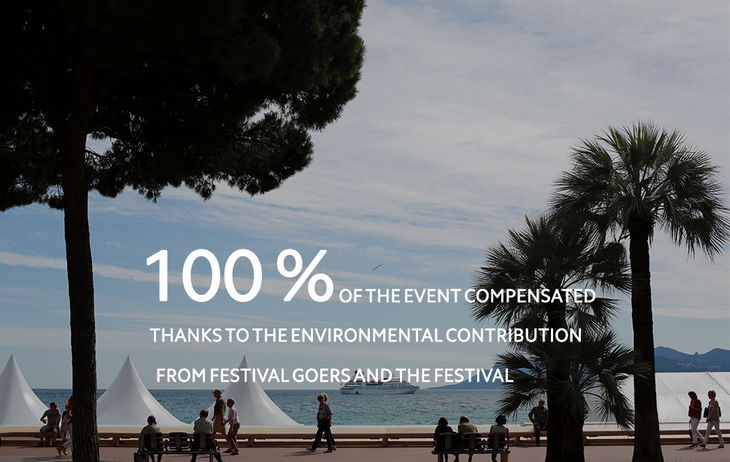 The Festival is taking action: offsetting carbon emissions © Canva
€515,189 raised and six environmental projects funded by the Festival.
The Festival has been fully offsetting emissions related to guests' travel since 2012. In a bid to take this even further, in 2021 accredited parties were asked to pay an eco-contribution to offset the carbon emissions triggered by their travel to Cannes as well as their accommodation. As these emissions account for over 80% of the event's total carbon footprint (with the exception of the 2021 edition), the Festival itself undertook to offset emissions directly linked to holding the event by paying its own eco-contribution, too.

This unprecedented initiative resulted in a total of €515,189 (excl. tax) raised.

In the lead-up to the Festival, and to ensure the funds were allocated to relevant and reliable programmes chosen from 20 different environmental projects, a committee of independent experts was set up, comprising the following specialists:
Jean-François Camilleri, founder and CEO of Echo Studio
Anna Creti, professor of economics at the Université Paris Dauphine and director of the Chaire Economie du Climat
Jean-Pierre Gattuso, oceanographer and research director at the CNRS
Anne Girault, energy and climate expert and chair of the Association Bilan Carbone
The funds raised have already been injected into six environmental initiatives on a local (Grasse and Saint-Cézaire sur-Siagne), national (Cantal and other French regions) and international (Brazil and Honduras) scale. Three of the six are being funded in their entirety thanks to the funds paid out by the Festival.
THE RESULTS ARE IN: turning ideas into action
THE MA FORÊT SUSTAINABLE FOREST MANAGEMENT INITIATIVE
Location: Grasse (France)
The Festival is funding this initiative in full for a total of €149,586.58 excl. tax
Perched in the heights of Grasse, this native Mediterranean forest is currently seeing its ancient Scots pines withering away and its downy oaks drying out, all across a 75-hectare area. The initiative rolled out here aims to accomplish three things: help the forest regenerate, prepare it for climate change, and protect the old trees and the habitats that they represent.
POST-FOREST FIRE REFORESTING INITIATIVE AT THE CENTRE NATIONAL DE LA PROPRIÉTÉ FORESTIÈRE
Location: Grasse (France)
The Festival is funding this initiative in full for a total of €32,250 excl. tax
This initiative was launched in the aftermath of the 2017 forest fire that ravaged Saint-Cézaire sur-Siagne in Grasse's hinterlands, destroying 53 hectares of forest in the process. Reforesting here involves a mix of species, and will revitalise the landscape in a site popular with tourists.
FARMLAND REFORESTING INITIATIVE AT THE CENTRE NATIONAL DE LA PROPRIÉTÉ FORESTIÈRE
Location: Saint-Saury, Cantal (France)
The Festival is funding this initiative in full for a total of €70,000 excl. tax
This initiative is being rolled in the Cantal region's Saint-Saury, where farmland is being reforested with a mix of a dozen different hardwood and softwood species. This should help trap and store several thousands of tCO2eq over a 30-year period. The project is currently awaiting Low Carbon Label status.
CARBOCAGE ECO-METHANE PUR PROJET AND BLEU BLANC CŒUR
Location: France
€114,540 excl. tax in funds raised by the Festival

The Carbocage Ecométhane initiative offers support across France in transitioning beef livestock farming towards sustainable, responsible practices. Livestock farming is currently a significant source of greenhouse gas emissions. This scheme aims to encourage a better-balanced diet for cattle in order to reduce emissions, safeguard biodiversity, and ensure animal welfare.
MUSKITIA LANDSCAPE PROTECTION - SOUTHPOLE PROJECT
Location: Honduras
€64,312.50 excl. tax in funds raised by the Festival

The Muskitia Landscape Protection project is shielding mangroves from deforestation by offering natural protection against flooding, erosion and storms, as well as by filtering pollutants in the water. Muskitia Landscape Protection works hand in hand with eight indigenous and Afro-Honduran communities, setting up training schemes and sustainable activities to improve livelihoods and living conditions for local people, all while protecting Honduras' invaluable cultural and natural heritage.
RIBEIRIHNOS REDD ECOACT PROJECT
Location: Brazil's Pará region
€84,500 excl. tax in funds raised by the Festival

In the Brazilian State of Pará, the region's local communities are classified as 'traditional peoples', giving them no ownership titles or deeds. This initiative provides them with certificates of ownership for the land these communities already own in order to protect the forest from illegal deforestation and poaching.