THE FESTIVAL DE CANNES IS TAKING ACTION TO PROTECT THE PLANET
The Festival de Cannes is taking action to protect the planet © Cannes Palais des Festivals-Photo: Hervé Fabre
In order to draw the event and its structure into a proactive environmental process that is both realistic and sustainable, the Festival de Cannes is implementing a strategy underpinned by two priority issues: CO2 emissions and waste management.

These two pillars were identified as being absolute priorities, and will be tackled simultaneously through a two-pronged approach:

► reducing (carbon emissions and waste), and
► taking action on aspects that cannot be cut back, such as offsetting carbon emissions and recovering residual resources.

The idea is to completely overhaul the way in which the Festival de Cannes takes place. Naturally, this is a long-term policy, but the first high-impact measures will be implemented starting in the 2021 edition.
REDUCING: areas of action


Transport
60% of the official car fleet will be comprised of electric and hybrid vehicles. These vehicles belong to the existing fleet, and will therefore be reused for the Festival.

Just like the accredited visitors, the vast majority of whom get around on foot thanks to how close-by the Festival's many spaces are, the artistic teams that travel to Cannes to showcase their films will also be encouraged to walk wherever possible.

In addition to this, all participants will enjoy facilitated access to the City of Cannes' public transport network thanks to their own dedicated pass.
Printing
The Festival will be halving its usual volumes of printed materials (already Imprim'Vert PEFC-certified) by continuing efforts to digitalise publications and tickets, cut back on print runs, and offer personalised handouts on site.
Film promotional material for the press will also be fully digitalised.
The red carpet
The red carpet replacement rate will be halved, thereby saving 950 kilos of material – a mere 47% of the traditional volume of carpet used. Incidentally, the latter is fully recyclable and recycled.
The volume of carpet used in the Village International areas will also be reduced by 24%
Food and drink
The Festival's caterers will be asked to comply with an 'eco-responsible' set of specifications, including commitments to prioritise fresh, seasonal produce and short circuits, to offer vegetarian options, to tackle food wastage, and to reduce waste.
Single-use plastic
The total elimination of plastic water bottles used (over 22,000 units in 2019) will be implemented starting this year. Alongside this, water fountains will be set up across the Festival's various spaces.
Goodies
The origin of Festival merchandise and products from the official boutique is currently being reassessed with a view to systematically looking into alternatives sourced from France and Europe. Furthermore, starting this year, French and European items will now be prioritised for each new product added to the collection. In 2019, French-made goodies already accounted for 45% of all sales.
RECYCLING: solutions under consideration
The Festival is taking action: upcycling © Cannes Palais des Festivals-Photo: Hervé Fabre
Thanks to the environmentally-friendly policies implemented by the Palais des Festivals, the City of Cannes, and the Festival's teams, the Festival aims to recover at least 95% of all waste.
In 2019, 99% of the 250 tonnes of waste were recovered: 81% in material recovery and 18% in energy recovery,
Upcycling
The Festival is currently working with local services to undertake in-depth research into cultural stakeholders on a local, departmental, and regional scale recovering, processing, recycling, and upcycling materials.
OFFSETTING: allocated means
The Festival is taking action: offsetting carbon emissions © Canva
Festival attendees' eco-contribution
89% of the event's entire carbon footprint is a result of attendees travelling to Cannes, as well as their accommodation. To offset this, all festival attendees will be required to pay a €20 (excl. tax) eco-contribution in order to be granted access to the Festival. The funds raised will be injected in full into funding carbon-offsetting programmes on a local, national, and international scale.
The Festival's eco-contribution
Running the event (preparation, set-up, technical means, associated merchandise) accounts for 11% of all carbon emissions.
The Festival de Cannes undertakes to offset these emissions by paying an eco-contribution.

In order to ensure the funds are allocated to relevant and reliable programmes, a scientific committee made up of independent experts will be set up.
During the next Festival, the committee will unveil the list of selected projects with a local, national and international scope, to which the sums collected by the contributions of the Festival and the accredited persons will be allocated.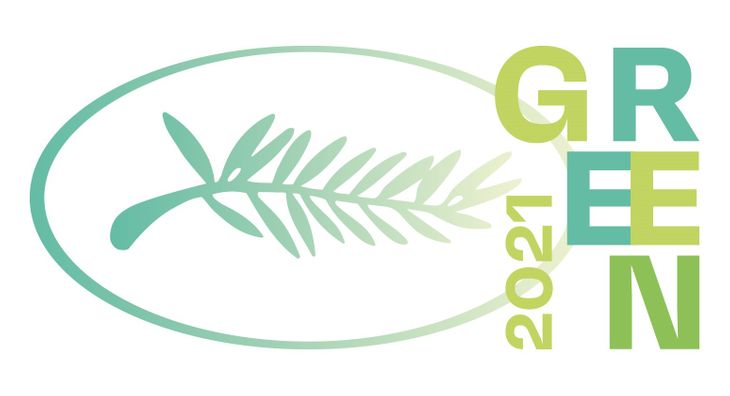 Logo Festival Green © AFFIF