Pioneer of Cinema Novo in Brazil, Carlos Diegues has presented many of his films at Cannes, including three in Competition (Bye Bye Brasil, Quilombo, Rio Zone). Cannes Classics has also twice honoured to his work, including this year's Xica Da Silva (1976), presented as part of the guest country screenings. The writer of Orfeu has also been a jury member several times, for Feature Films in 1981, and for Short Films in 2010. He chairs the jury this year of the Caméra d'Or, for which the top 25 films compete.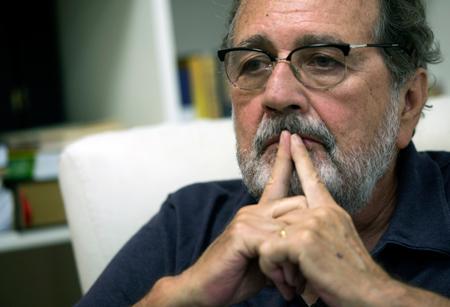 How do you approach your role as President of the Jury for the Caméra d'Or?
I am delighted because this is an opportunity to get to know new trends in cinema worldwide. It's the young filmmakers who set the new trends.
What do you look for in a film?
I want to be surprised. A film is a kind of crossroads. Today, digital technology offers many possibilities, and everyone can make movies. We don't know where all this is heading but it is a very rich time. We must find new paths, new ways of making films. Among the films I've seen, some have that spirit, the spirit of novelty, which takes filmmaking forward.
What are your memories of your first film?
It was unforgettable. I was 23, my film was called Ganga Zumba, and it was selected for the Critics' Week. That same year (1964, ed), there were two Brazilian films in Official Competition. It was the first time I had left Brazil, and it was to show my first film at the world's greatest festival. It gave me tremendous hope for the future. And I made my second film with great excitement and confidence.
What made you want to become a filmmaker?
The love of cinema. I was a born film buff, I used to go to the cinema almost every day. I loved watching films so much, I decided to make one.
What is your earliest memory of cinema?
The first time I went to the cinema, I was 6. I looked at the screen, and I was totally hooked. In fact I was simply astonished and I thought, don't touch the screen or you'll get stuck. But I'm still stuck!
How is Brazilian cinema doing?
Today we have a true national cinema. At the time of Ganga Zumba, there were around five or six films a year. Today we make a hundred. And all around the country, not just in Rio and Sao Paulo. There is enormous diversity, with young people who are very talented.
Does this film enough travel far enough beyond the country's borders?
Not much. It's a general problem throughout Latin America. Either we make vulgar comedies that only work in Brazil, or films for festivals that don't interest local audiences. Occasionally, there are films that pursue a kind of third way such as the films by Walter Salles or Fernando Meirelles.
Reported by B. de M.