With two Grand Prix and a Best Director Award under his belt, Nuri Bilge Ceylan has returned to Cannes this year with Winter Sleep, his seventh full-length feature film. As with his previous film, selected in 2011, the Turkish director has given us the Competition's longest screening. Filmed on the Anatolian plains, Winter Sleep lasts three hours and seventeen minutes.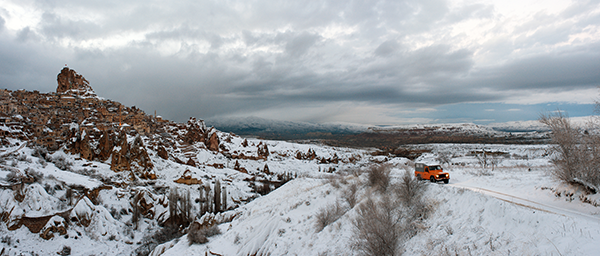 Photo du film © DR

The action takes place at a hotel in deepest Turkey. A retired actor, his sister and wife watch winter gradually set in over the steppe. It snows, the cold seeps in, and as snow cloaks Anatolia, the protagonists cut themselves off - and tear each other apart. 

In Winter Sleep, the region that is so close to Nuri Bilge Ceylan's heart is depicted in cold tones outside, but the interiors are full of warmth. Through the thick clouds of snow the director shows us another view of these plains, a thousand miles from those that feature in Once Upon a Time in Anatolia, saving fire-lit, intimate colours for the scenes set indoors.

It is another perspective, but one that is no more forgiving. The action in the previous film develops against a nocturnal backdrop on a steppe that is by turns arid and lush, but Winter Sleep is all about snow. The falling white flakes also play their part in Distant and Climates, revealing a recurring theme in the director's work. Cold and hard, it takes so little to make it melt, and is thus a metaphor for Bilge Ceylan's characters, who are constantly evolving. The same is also true of Anatolia, a setting characterised by change, a jumbled mass of grassland and rolling hills, where each rising contour of the landscape hides another surprise.
 
Tarik Khaldi

 
SCREENINGS

Friday 16th May / Grand Théâtre Lumière / 3.00 p.m.
Saturday 17th May / Soixantième Theatre / 2.30 p.m.
>>Go to interactive calendar