Harold and Lillian Michelson are unknown to the general public, and yet they are the architects of Hollywood's greatest masterpieces. For 60 years, Harold was a story-boarder, and his wife Lillian was a documentary filmmaker. Both of them worked on The Ten Commandments by Cecil.B.Demille, The Birds by Alfred Hitchcock, and The Graduate by Mike Nichols. The documentary filmmaker Daniel Raim shines a spotlight on the fate of this couple in the shadows, for Cannes Classics.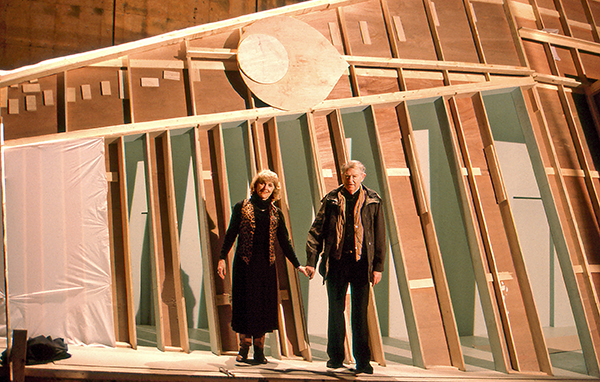 Film still © RR


Who are Harold and Lillian Michelson?
They could be seen as the epitome of the cliché of ordinary people who succeeded in accomplishing extraordinary things by setting their egos aside. They were the architects of Hollywood, modest and hardworking. They never sought out the projectors' spotlight, even though they worked with the greatest American directors of the era.

Their incredible talent combined with their great generosity is what made them special. Their marriage lasted 60 years, and included both highs and lows. They always kept a sense of humour, even when life was trying.

How did you meet?
I decided to tell their story fifteen years ago, after I'd finished my first documentary, The Man on Lincoln's Nose.  For this film, Harold and Lillian travelled to Bodega Bay with me and the team, which is a small coastal town in North Carolina where the couple had worked on the shoot for The Birds by Hitchcock, 37 years previously. We became close and then I regularly visited them at Dream Works animation studios, where Lillian had her own research centre.

You've had access to a huge amount of documents…
Making this documentary was a colossal project. Luckily, Harold kept many of his storyboards over the years. The Academy of Motion Picture Arts and Sciences has a fantastic archive centre. There's also the Mark Wanamaker Bison Archives, which has acquired a vast collection of images from Hollywood over the years. Harold and Lillian's family gave us access to letters, poems, and personal photos, as well as archive footage. I was also lucky: documentary filmmakers who had crossed paths with Harold and Lillian kindly gave us their recordings.


Interview by Hannah Benayoun
 

SCREENING

Saturday 23 May / Buñuel Theatre / 12pm
>> Access the interactive schedule