Released in 1947, The Lady from Shanghai marks the rupture between the director of Citizen Kane and the Hollywood studio system. A parting of the ways that the film-maker acted out in person with masterly symbolism in one of the film's most celebrated scenes.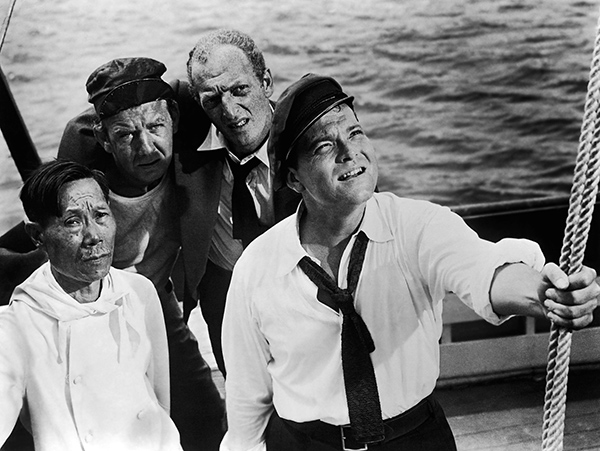 Film still © RR

The fifth full-length feature film directed by Orson Welles, presented here in a newly restored version, The Lady from Shanghai is also the film that finally crystallised the film-maker's growing desire to cut his ties with the Hollywood studios, his relationship with which had always been complicated. Supreme irony of cinema history, Orson Welles was to appear in the film opposite the sublime Rita Hayworth, the studios' most prominent female star of the day, whom he was already in the process of divorcing when shooting started in 1946.

Welles plays Michael O'Hara, a sturdy seafarer who had fought against Franco and now finds himself employed on the yacht of the beautiful and fabulously wealthy Elsa Bannister, whom he has just rescued from the clutches of a gang of crooks and with whom he has fallen in love. A classic film noir, The Lady from Shanghai features a dark intrigue in which the characters are depicted as sharks with an insatiable appetite for money, in a contemptuous reference to the Hollywood moguls. In another savage attack, this time directed against the vacuous glamour of the star system, the character played by Rita Hayworth is deliberately divested of any hint of romanticism. The actress appears with short blonde hair, far removed from her legendary long red locks.

However the climax of the film and of his rejection of Hollywood is reached in a scene of breathtaking visual impact filmed in the tunnel of mirrors at a fariground, at the exit of which the character played by Rita Hayworth breathes her last at the feet of a triumphant Orson Welles. Coming in the final seconds of the film, this has become one of the legendary scenes of cinema history. Several decades later, Woody Allen would pay tribute to it, reproducing several shots at the end of Manhattan Murder Mystery.
Benoit Pavan

SCREENING


Saturday 16 May / Soixantième Theatre / 9:30 PM
>> Go to the interactive agenda