Seven years after garnering the Jury Prize in Un Certain Regard for Tokyo Sonata, Kiyoshi Kurosawa returns to the Official Selection, with a spiritual reflection on death. Kishibe no tabi (Journey to the Shore) is a close adaptation of a fantastic novel by Kazumi Yumoto.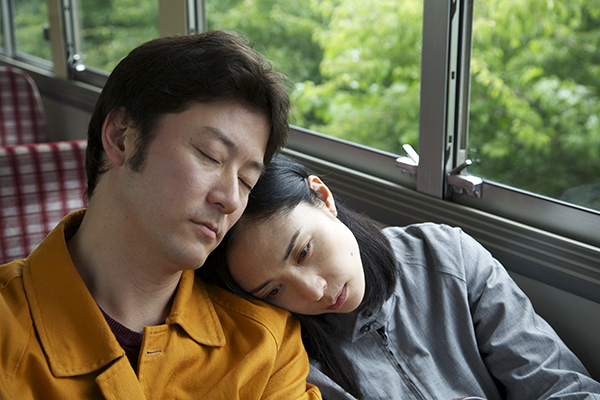 Film photo  © Sayuri Suzuki

As he wanders through familiar villages, encountering those whose paths once crossed his, Yusuke (Tadanobu Asano) awaits the moment when he can fall into the arms of Muzuki (Eri Fukatsu), the woman he loved so much. This final journey, on which he has invited his beloved, is the prelude to the ultimate departure into the afterworld. Because three years ago, Yusuke tragically died at the bottom of the ocean. But why has he come back from the dead?

A prolific director raised on super 8, who has also tried his hand at B movies, TV films and serials, Kiyoshi Kurosawa is the director of the superb mini-series Shokuzai (2012). In Kishibe no tabi, his 19th feature film, he ventures into the realms of melodrama and raises the universal question of life after death, and of the body as "the bedrock of the spirit". "It always seemed to me over-hasty to think that death carried off both our body and spirit at the same time," says the director, who still teaches at the Tokyo Film School.

The filmmaker structured the film by following as closely as possible the plot of the original work by Kazumi Yumoto, with whom he discussed the project on several occasions during the shoot. And so, like Yumoto's novel, the director, "stretches time and space" within the narrative and captures, through this love story, the intimacy and grief involved in accompanying a dying person on the home strait. "I wanted to depict [this] differently, through a love story," he explains.

Benoit Pavan

SCREENINGS


Sunday 17 May / Salle Debussy / 2 pm - 9.45 pm
>> Go to interactive diary